Elderly couple's plan to give weed for Christmas thwarted by Nebraska cops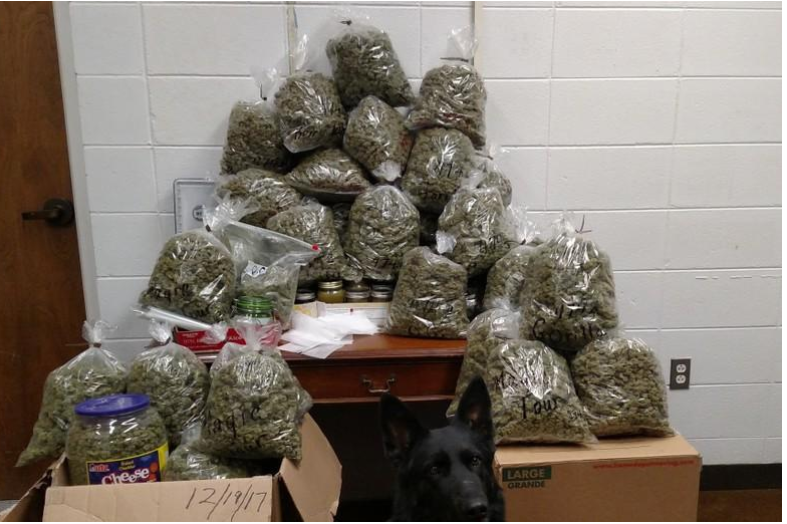 Marijuana seized by police from an elderly couple is pictured in York County, Nebraska, US in this undated photo. Photo: REUTERS/York County Sheriff's Office
An elderly California couple discovered by Nebraska sheriff's deputies with 60 pounds of marijuana in their truck during a cross-country trip said they had planned to give the weed to family as Christmas presents, police said.
Patrick Jiron, 83, and his wife Barbara, 80, of Clearlake Oaks, California, were both cited on charges of possession of marijuana with intent to deliver after police smelled a strong odor of marijuana coming from their vehicle during a traffic stop on Tuesday, the York County Sheriff's Office said in a press release.
A number of US states have legalized marijuana, but Nebraska is not one of them.
The couple did not immediately respond on Saturday to a request for comment.
Patrick Jiron admitted to having the drug inside the vehicle and consented to a search during the traffic stop. Police said they found the 60 pounds of pot, with an estimated street value of more than $300,000, and multiple containers of concentrated tetrahydrocannabinol (THC), a major active ingredient in marijuana.
"Both occupants advised that they were traveling from California making stops in Boston, Massachusetts and Vermont to distribute the marijuana to family and friends as Christmas gifts," York County Sheriff's Office said in a statement.
Patrick Jiron was booked into the York County Jail on Tuesday before being released on bail for an unknown amount and his wife was only given a citation, police said.