Schwarzenegger wakes from heart surgery declaring: 'I'm back!'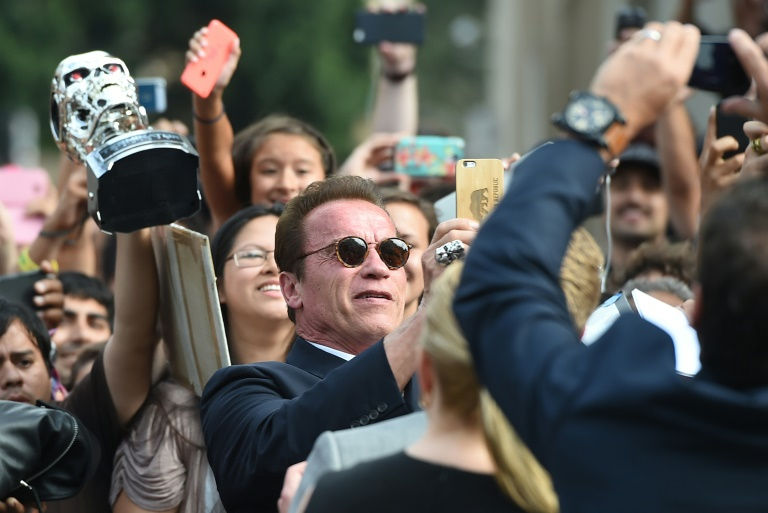 Arnold Schwarzenegger developed complications while in hospital to have a heart valve replaced (Photo: AFP)
Hollywood action star Arnold Schwarzenegger is in a stable condition after undergoing emergency open-heart surgery, his representatives said Friday, adding that his first words on waking were "I'm back."
The 70-year-old actor turned activist -- famous for the catchphrase "I'll be back" -- was in a Los Angeles hospital Thursday to have a valve replaced and developed complications, according to his spokesman Daniel Ketchell.
Doctors rushed the "Terminator" and "Predator" star into theater for open-heart surgery, operating for several hours, according to reports in the US entertainment press.
Schwarzenegger, a former Mr Universe, underwent non-urgent heart surgery 21 years ago to have the valve replaced, due to a condition he said was congenital and nothing to do with steroids.
"That 1997 replacement valve was never meant to be permanent, and has outlived its life expectancy, so he chose to replace it yesterday through a less-invasive catheter valve replacement," Ketchell said.
"During that procedure, an open-heart surgery team was prepared, as they frequently are in these circumstances, in case the catheter procedure was unable to be performed.
"Governor Schwarzenegger's pulmonic valve was successfully replaced and he is currently recovering from the surgery and is in stable condition."
Schwarzenegger revealed in his book "Total Recall: My Unbelievably True Life Story" that he initially kept that first operation a secret from his wife, Maria Shriver, by telling her he was on vacation in Mexico.
In an interview with CBS's "60 Minutes" he said his doctor told him he was "crazy" when he said he planned to keep the operation quiet from Shriver.
- Iconic line -
"He said 'your wife is pregnant, what do you mean you are not going to tell her?'" Schwarzenegger recalled.
"I told him: 'Here is the plan, I am going to have the heart surgery, you do it quietly, no one knows about it, we do it at six in the morning. Four days later I am out of here and I go to Mexico and I will tell Maria I am down here, a little busy and I am on vacation, when I come back I'll be tanned and no one will know.'"
The Austrian-born former bodybuilder was voted in as governor of California in a historic 2003 recall vote -- but proved the win was no fluke by routing opponent Phil Angelides to get re-elected.
Cedars-Sinai hospital refused to confirm Schwarzenegger's treatment, citing privacy laws, but his spokesman publicly thanked the medical team for their "tireless efforts."
Ketchell confirmed that Schwarzenegger's first words when he woke up after surgery were, "I'm back," a play on his trademark film line.
He first used it in 1984's "The Terminator" and over the next 34 years repeated the phrase - or close variations -- in the sequels, as well as "Commando," "Raw Deal," "The Running Man," "Twins," "Total Recall," "Kindergarten Cop," "Last Action Hero," "Jingle All the Way," "The 6th Day" and "The Expendables II."
He revealed years later that he'd had difficulty pronouncing "I'll" and tried, unsuccessfully, to persuade "Terminator" director James Cameron to change the line to "I will be back."
In 2005 it was ranked 37 on the American Film Institute's "100 Years... 100 Movie Quotes" list celebrating iconic lines from the history of cinema.