60-year-old holds real emotions toward nine silicone dolls he keeps as daughters
Global Times
1545590334000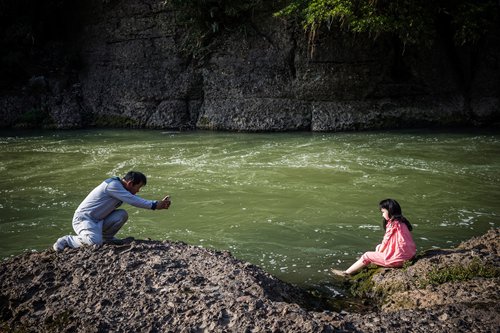 Li Shu is taking pictures of one of his dolls, which are kept by him as his own daughters, in a scenic spot in Huishui, Southwest China's Guizhou Province. (Photo: IC)
Sixty-year-old Li Shu (pseudonym) has nine daughters.
They all have perfect angel faces, are dressed in silk garments, and are lying on his bed or on the sofa.
Every day, Li Shu decorates his girls and takes care of them. Sometimes he brings them to supermarkets.
But his daughters never talk. They are life-sized silicone dolls.
In 2013, the then-55-year-old Li Shu from Southwest China's Guizhou Province first saw a silicone doll in Beijing.
"She was so beautiful, so lovely, so perfect," he thought. But the price of 7,900 yuan ($1,445) kept him away.
However, after returning to Huishui, Guizhou, Li Shu could not forget the doll.
In the following months, he carefully picked a silicone doll online.
The doll came to his home on May 10, 2014. Li Shu named his first doll Xiaoxue, meaning Snow. Ever since then, he buys a cake and celebrates Xiaoxue's birthday every year.
After Xiaoxue arrived, Li Shu and his son, who was 14, took her outside to take pictures of her. Xiaoxue is 60 kilograms, as she has metal "skeleton" and silicone gel "flesh." Her joints are human-like, allowing her to pose in realistic positions. From outward appearances and touch, Xiaoxue was close to "perfect."
Li Shu, who uses the online pseudonym "Li Chen," meaning "Staying away from the dusty world," became famous after posting Xiaoxue's pictures. Everyone who has a silicone doll knows him in China.
He does not feel ashamed of having the dolls. He noted again and again that the dolls are just his daughters. Even his son takes care of the dolls as if they were his younger sisters.
Once a month, Li Shu baths the dolls, and then puts baby powder on the dolls.
His daughters have 200 clothes. Sometimes they hold a real guitar, violin or Chinese traditional instruments such as zither and a pipa.
"I feel good when the dolls are decorated nicely," he said.
He never takes pictures of naked dolls, nor allows others to do so. Once his son took a doll on street, and a pedestrian touched the breast of the doll. His son was angry, and said, "You dare to touch my sister's breast?"
Now Li Shu has nine dolls, some of which were sent to him because the previous owner got married. "Since you do not treat dolls as sex toys, I feel safe for giving my doll to you," the owner said.
Many people cannot understand Li Shu's emotions toward the dolls, but his family is very tolerant. His nieces and their children think the dolls are attractive.
Li Shu said that liking dolls is the same as liking games. "Liking" is all equal. "It is also normal to have dolls as sex toys, better than messing around," he said.
"It is a father's love," he said. The dolls are fake, but the feeling is real.