Peking Opera pitched to younger audiences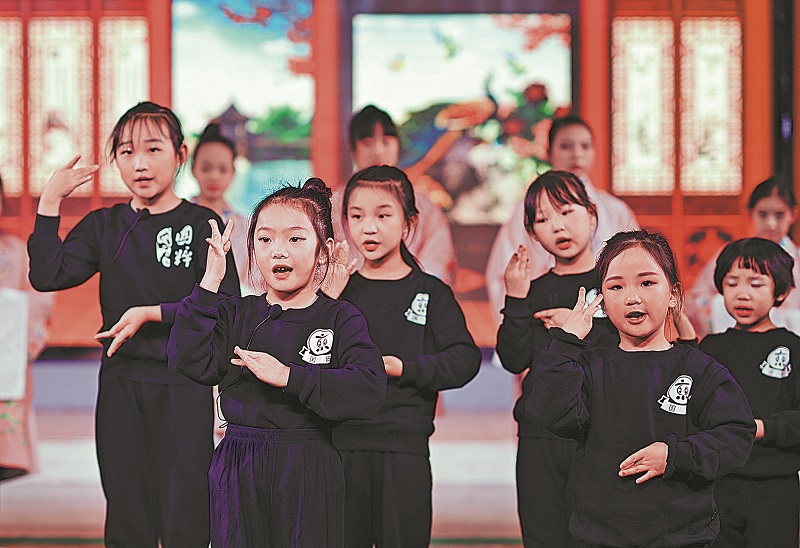 Traditional art form boosts its popularity with modern approaches
Five young female students at the Shanghai Theatre Academy have become online celebrities by singing pop songs to the tunes of Peking Opera works.
Numerous netizens who have watched footage of the students said that, thanks to them, they have gained a better understanding of why their parents developed a love for this art form.
The students, mainly roommates in dormitory 416 at the academy, are known on the internet as the "416 girls". They have released footage of their singing on short-video platforms since 2019.
Sometimes in the dormitory they wear Peking Opera makeup and costumes and make poses connected with the art form. They tell netizens how to distinguish between different schools of the operatic genre, and also tell them how to learn more about it.
Over the past three years, the students have gradually gained a large number of fans.
In one of the videos, which has been viewed more than 50 million times and received 2.5 million "likes", they sing the pop song Tan Chuang to a Peking Opera tune. To date, footage of the students has received a total of 20 million "likes".
Several months ago, the students wrote and released an original song based on a Peking Opera tune, which explains different roles in the art form. Titled Jia'ren Xi, or Play of Beautiful Women, the lyrics state: "Drums and gongs beat again, and I enter onto the stage. Fluttering flowing sleeves, my dancing dazzles everyone… the girl in martial attire is not second to any boy…"
Young people such as the "416 girls" have increased audience numbers for Peking Opera, which boasts a history of more than 200 years.
Guo Jing, 27, a primary school teacher who owns a photographic studio themed on Peking Opera, has about 2.5 million followers on the Douyin short-video platform.
In her videos, she performs ancient songs while dancing to Peking Opera movements, or discusses interesting stories about the art form while preparing makeup for the stage.
"I want to be one of the best arts vloggers, and I see it as my mission to shorten the distance between stage art and life," Guo said.
She has dyed her hair and also writes calligraphy and plays the drums, incorporating these elements in short videos and using montages to create a refreshing and stark contrast between ancient and modern.
Pan Yan, secretary-general of the China Performance Industry Association, said Peking Opera has a unique charm that people can sense without having to understand it.
Audiences experience the art form's beauty by watching short explanatory videos, and they also imitate and spread news about Peking Opera after watching video footage, Pan said.
A report from Douyin said traditional works, including Peking Opera, are the most popular intangible cultural heritage items on the short-video platform.