At 86, Murdoch returns to his roots in news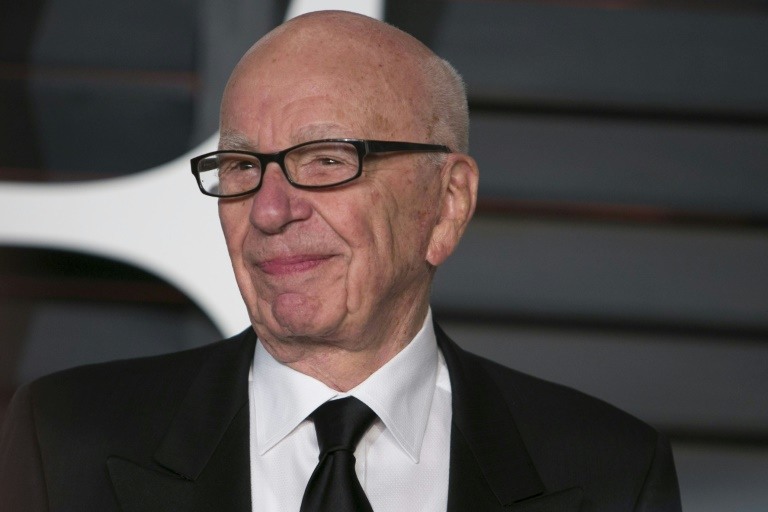 At 86, Australian-born tycoon Rupert Murdoch is shedding his entertainment business to focus on news. Photo: AFP
Rupert Murdoch has always been a newspaperman at heart.
And in the twilight of his life, in what The New York Times called his "King Lear moment," the ageing patriarch is carving up his empire and returning to what he knows best.
By selling 21st Century Fox to Disney for $52.4 billion, the 86-year-old Murdoch is shedding his entertainment business to focus on his first love -- news.
"I think this is returning to our roots, which is news and sports," Murdoch said in an interview with Sky News. "It's strategically the right time."
Murdoch is abandoning the cutthroat and fast-moving entertainment battleground to more nimble technology giants such as Amazon, Facebook, Apple and Netflix.
But the media mogul is remaining in the fight on another field where he has excelled -- influence.
Murdoch is holding on to the Fox News channel, the favorite cable television network of US President Donald Trump, with whom he goes way back.
Long before he had political ambitions, real estate tycoon and man-about-town Trump was a fixture in the gossip pages of the Murdoch-owned newspaper the New York Post.
As president, Trump consults with Murdoch by telephone on a weekly basis, according to the Times, and Trump has called his fellow billionaire a "very good friend."
Besides keeping a line open to Trump, Murdoch is also maintaining a voice in Britain and Australia through the stable of newspapers he owns there through News Corp.
The 21st Century Fox sale could be the final act in a lifetime which has seen Murdoch transform his father's struggling Adelaide newspaper into a multi-billionaire media and entertainment empire that spans the globe.
Born on March 11, 1931 in Melbourne, Australia, Keith Rupert Murdoch was educated at Oxford University in England.
He inherited the Adelaide News in 1952 upon the sudden death of his father, Sir Keith Murdoch, at the age of 66.
- Scandal, salaciousness and sports -
Murdoch, just 21 years old, turned the newspaper around, began acquiring other dailies and found success with a mixture of scandal, salaciousness and sports.
Murdoch launched The Australian, the country's first national daily, in 1964 and made his first foray into Britain with the 1969 purchase of the weekly the News of the World.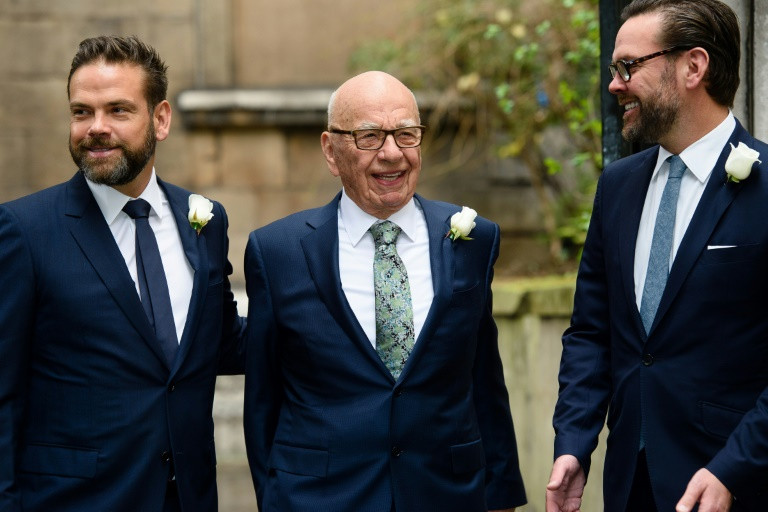 Rupert Murdoch (C) with his sons Lachlan (L) and James (R). Photo: AFP

He went on to buy The Sun, a daily which he turned into a popular tabloid featuring a picture of a scantily-clad woman on Page 3.
The success of his popular newspapers helped finance Murdoch's 1981 purchase of The Times and Sunday Times, prestigious broadsheets, despite intense opposition from parts of Britain's establishment.
In the 1980s, Murdoch fought a bitter industrial dispute over his decision to move his papers from their traditional home in Fleet Street to new headquarters in Wapping, where electronic production allowed him to slash staff.
Seeking new shores, Murdoch bought the New York Post in 1976 and became a naturalized US citizen in 1985, allowing him to buy a US television station.
He bought an interest in 20th Century Fox in 1984 and purchased Dow Jones, the owner of the prestigious Wall Street Journal, in 2007 for $5 billion.
Murdoch's empire has come under pressure in recent years from the slump in newspaper advertising revenue and a phone-hacking scandal in Britain.
He shut the News of the World in 2011 following public revulsion that it had hacked the voicemail of a schoolgirl, Milly Dowler, who was later found murdered.
Murdoch is reviled by critics for his politically conservative dominance of the global news market and what are seen as the excesses of tabloid media.
But he is revered by much of his staff and respected by opponents for his business acumen.
Acquisition and expansion, and a formidable capacity to manage debt, as well as willingness to fight and win battles, have characterized his career.
The father of six children, Murdoch has been married four times, most recently to Jerry Hall, the former model 25 years his junior whom he wed in March 2016.
Murdoch's sons from his second marriage, Lachlan, 46, and James, 44, have been the most intimately involved in his business affairs and are seen as the most likely to take over upon his death.