Industry vets discuss key to movie marketing at Shanghai International Film Festival
Global Times
1560808297000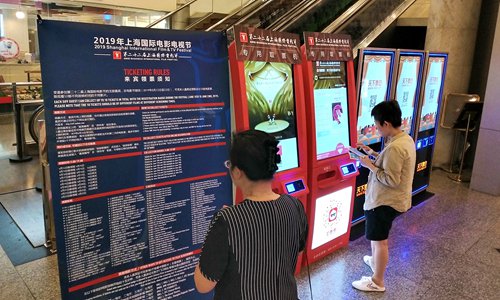 People check the screening schedule at the Shanghai International Film Festival. (Photo: IC)
A movie salon discussing "How to boost movie reviews and improve box-office performance" was held at the Shanghai International Film Festival on Saturday. Alibaba Pictures' Senior Vice President Li Jie and the founders and CEOs of several film companies took part in the event and shared their views on film distribution and marketing in China.

Test audiences

Yuan Juan, the general manager of Alibaba Pictures' big data service Beacon, talked about the several successes the platform had in promoting films, such a domestic productions Dying to Survive and Hello Mr. Billionaire and overseas works Green Book and Capharnaüm, since its establishment in April 2018.

For example, Beacon and the film's distributor made the bold decision to bring Lebanese drama Capharnaüm to the big screens while blockbuster giant Avengers: Endgame was still dominating the box office in China. After test screenings with audiences, the Beacon platform was able to estimate Capharnaüm, an art film aimed at the non-mainstream audience, would get high reviews. Moreover, the marketing company produced short videos for social media platforms to make the film a hot topic and boost its exposure.

The marketing strategy certainly paid off, as the film earned an impressive 373 million yuan ($53.8 million) in the Chinese mainland while going up against several big budget commercial films.

Yuan said in total the platform has provided services to 176 film projects, 109 business partners and arranged 82 testing screenings.

Li noted that film reviews from test screenings are the key to marketing and that a film cannot expect success without them as both audiences and theaters use review scores as important references to choose films and to assign screen share.

Rather cry than laugh

Looking at the Chinese mainland box office in recent years, it seems that dramatic films have proved more popular than comedies.

At the event, film critic Zhao Zheng noted that comedies might fail to attract Chinese audiences since the jokes the films rely on have already saturated the internet. To achieve success, comedies need to evolve to suit audiences' aesthetic needs and instead of relying on silly jokes, explore more complicated black humor or satire.

Li further pointed out that successful Chinese dramas tend to be tearjerkers or nostalgic in nature, which means the bar is low for this genre, similar to the initial development stage of Chinese comedies. Li noted, however, that audiences' expectations for dramas are sure to rise.

"The phenomenon of high box-office earning dramas with low audience review scores will vanish… Audiences need something authentic and immersive, which raises the bar of difficulty for directors and screenwriters," Li said.