Travel accessories become increasingly popular in China
People's Daily online
1574409688000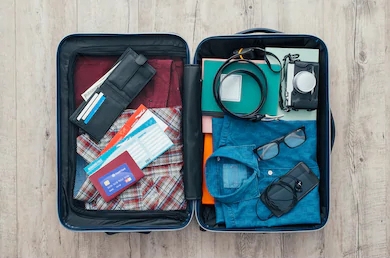 (Photo: Pixabay)
Travel accessories including disposable towels, toilet articles, collapsible kettles, and buggy bags are seeing ever-growing popularity in China, reflecting increasing environmental awareness of Chinese people and the country's booming tourism industry.
Sales of travel accessories surged significantly on various e-commerce platforms during this year's "Double 11" online shopping festival in China.
According to a shop owner who sells travel accessories on the well-known Chinese e-commerce platform Taobao, her store offers more than 200 kinds of travel accessories in 10 categories, including portable tableware, buggy bags, rain gear, collapsible basins, foldable slippers, emergency medicine, changeover plugs, and collapsible kettles amongst other items.
Sales of some frequently used travel accessories have reached an average of 1,000 pieces per month, and the figure will be higher with the Lunar New Year approaching, said the shop owner, adding that "These travel accessories have greatly facilitated people's travels. Also, people can continue using these accessories after their travels. So they are highly cost effective."
Creative cultural elements have played an important role in the process of upgrading of many travel accessories as well as the integration of culture with travel accessories as it has made creative cultural ideas more practical.
The online flagship store of the Palace Museum, a leader in China's cultural and creative industry, has rolled out four kinds travel tea sets, a neck pillow, a buggy bag, a passport holder, and two types of baggage tags. All of them convey distinctive features of the Palace Museum.
Online flagship stores stemming from other cultural institutions (which have made efforts to develop cultural and creative products, including Suzhou Museum), have also launched travel accessories with their own unique characteristics.
Liang Wei, a Chinese woman who has planned to take her retired parents to travel all over the world, bought her parents a set of travel tea ware from the online flagship store of the Palace Museum.
The tea set includes a teapot and two teacups. "It is not very big, and weighs about as much as a small bottled water. But it is practical," said Liang, adding that her parents said their degree of happiness while travelling has significantly increased thanks to the tea set.
Bringing their own travel accessories on trips has been regarded as a way of contributing to environmental protection.
Recently ten government departments of east China's Zhejiang Province including the leading group office of household waste sorting jointly issued a document on restricting the use of disposable consumer goods, encouraging four-star hotels and above to stop offering guests disposable consumer goods starting from Dec. 31, 2019. Furthermore, the campaign is expected to gradually spread to other hotels, homestays, agritainment providers, and other facilities that provide customers with a broad range of accommodation services.
According to incomplete statistics, there are so far at least 18 Chinese cities which have advocated reduction of as well as restrictions on the use of disposable consumer goods.
"Taking my own travel bag with me to travel has become a habit of mine. I put stuff like toilet articles, commonly used medicine, and my slippers in the bag. It is convenient and environmentally friendly," said Wei Qingzhou, a Chinese travel enthusiast.
Wei has found that there are more and more tourists that prefer to take their own travel accessories during travel outings in recent years. "These accessories would not add too much weight to the baggage, plus it helps people do their part in the ongoing endeavor to protect the environment," added Wei.
Growing awareness regarding green life style has driven changes in relevant companies in China. A company in Zhejiang that used to produce disposable consumer goods plans to shift their focus of development and concentrate more efforts to produce portable consumer goods people that would make for more convenient travel, according to an executive of the company.
The company will furthermore continue to strive guiding consumers forward to recyclable and degradable products so as to reduce wasting of resources, said the executive, explaining that they can produce such products as paper cups made from sugar cane fiber and garbage bags made from corn starch.