New book explores the art and craft of the modern blacksmith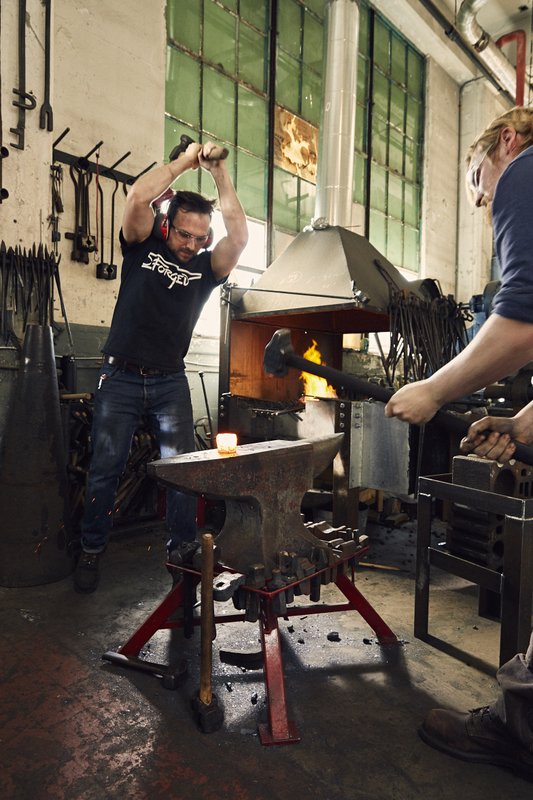 Asked what it feels like to forge iron, Robert Thomas has to pause for a moment and compose himself before plunging into a description of what, for him, is as much a passion as a livelihood.
"Forging has a way of taking hold of you until it becomes a part of who you are," Thomas says. "It not only links us to the millennia of blacksmiths who came before us, but in this age of Silicon Valley and computers, it's one thing that machines can't really do, at least easily anyway."
"The work of a blacksmith is not at all limited to Renaissance fairs," he continues. "It's very much alive today."
In his new book, "The Art and Craft of the Blacksmith: Techniques for the Modern Smith" (Quarto Publishing Group USA, 2018), Thomas explains the tools of the trade, offers a history of decorative iron, and discusses techniques for anyone from the novice to the accomplished blacksmith.
His love for the ancient craft is palpable as he describes the sensation of hammering heated metal until it can be molded like clay, becoming stronger in the process.
"Forging is completely addictive," says Thomas, who runs a studio in Charleston, South Carolina, that combines restoration work with more modern, artistic pieces. "The best thing is when I have a friend or craftsman in another discipline who comes to try it. The first time they shape hot metal, you can see it in their face. When you see that steel squish out like PlayDoh, the whole experience is ethereal."
Try being a smith, he says, and "you'll never look at metal the same way. And you'll look at bridges differently."
The permanence of the works also part of the attraction, he says. "When we install a beautifully forged gate in front of someone's home, we know it will last longer than absolutely anything else there."
JoAnn Bentley, an administrator for the Artist Blacksmith Association of North America, says many of the organization's estimated 4,000 members are young, and include some women.
"It's a thriving craft and is really coming back to life these days," she says. She partly credits the television show "Forged in Fire" on the History Channel.
Thomas had tried a career in finance, but wasn't happy there. "So at 24, I decided I had to do something different. ... I knew I loved working with my hands, and I loved art, and when I tried blacksmithing I was certain it was for me," he says.
He went on to study the craft — long known as "the master trade" because of how essential it was in traditional village life — at what he calls the "Harvard for blacksmiths," Hereford College of Arts, in Hereford, England. He became one of a handful of Americans inducted as a certified journeyman in Britain's Worshipful Company of Blacksmiths, a guild that dates to the 1300s.
There are places closer to home that a would-be blacksmith can study. The American College of Building Arts, in Charleston, where Thomas is based, has a program, he says, as do several other institutions across the country. But they are rare.
His studio, Robert Thomas Iron Design , includes five other blacksmiths, plus a part-time engineer and designer. It's one of only about 30 studios like it in the United States, he says.
"It's great to work side by side with other blacksmiths. That amazing camaraderie of blacksmiths around the world is one of the truly great things about this field," he says.
Thomas hopes his book conveys a sense of that community. "It's also meant as a primer for craftspeople who may have had a taste of basic blacksmithing and want to take it to the next level," he says.
"The goal is to present blacksmithing in a modern, professional context and offer some perspective on how to contribute to the world of design using blacksmithing techniques to create large and small pieces of functional art," he says.
Projects detailed in the book include bookends, a trivet, a door handle and a fireplace tool set.
In addition to historical restoration work, his studio makes furniture and a range of shelf brackets, which he says is their most popular item.