Film on China's poverty battle grosses $295 million
BEIJING — My People, My Homeland, an anthology comedy film depicting China's achievements in the battle against poverty, has generated a total of 2 billion yuan ($295 million) at the China box office since its release on Oct 1, both the National Day and the Mid-Autumn Festival.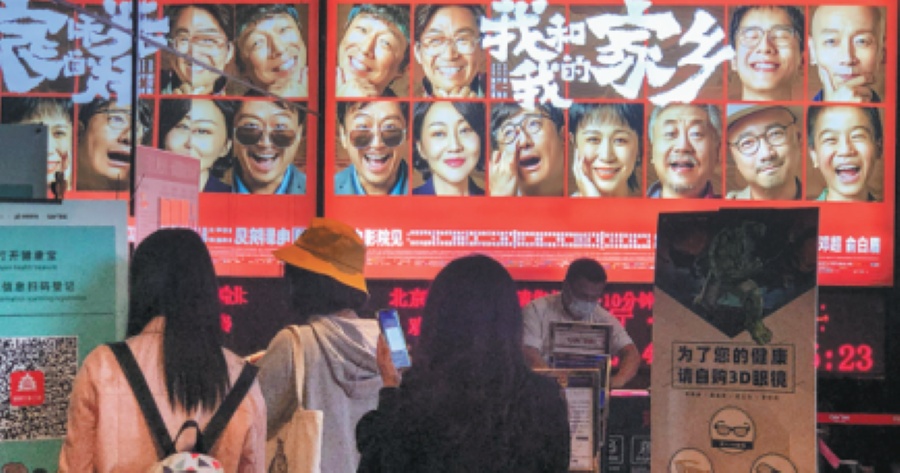 Moviegoers check in to see My People, My Homeland at a cinema in Beijing on Monday. [Photo by Kuang Linhua/China Daily]
Widely referred to as a follow-up to the 2019 patriotic blockbuster My People, My Country, the National Day holiday hit saw its box office receipts cross the 2-billion-yuan mark on Saturday evening, showed data compiled by Beacon, a digital platform for film distribution and advertising.
It took My People, My Homeland only nine and a half days to score this amount of revenue, the fastest so far this year in China.
During the outgoing eight-day National Day holiday ending on Thursday, the star-studded five-part comedy contributed about half of China's total box office of 3.95 billion yuan for the period, according to the China Movie Data Information Network.
The film adopts a storytelling technique of collective creation -- one film contains multiple stories by different directors. It has Zhang Yimou, one of the best-known Chinese filmmakers, as the executive producer, and Ning Hao as the general director.
Maoyan, a movie-ticketing and film data platform, in its latest box office estimation, forecasted My People, My Homeland to rake in over 3 billion yuan in China.