A Sherpa guide and summiteer of Qomolangma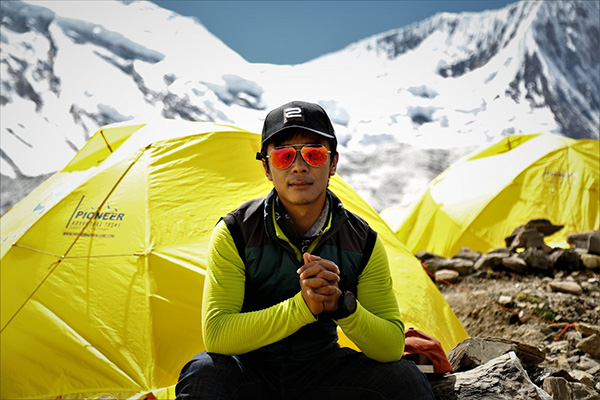 Seven-time Mount Qomolangma summiteer Lakpa Sherpa. (Photo: China Daily)
Seasoned mountain climber Lakpa Sherpa had made debut in climbing Mount Qomolangma by reaching the top of the mountain on May 23, 2010 from the Chinese side of the mountain by taking US climbers.
Since then, the 28-year-old man has not looked back in his climbing career, reaching the top of the world's tallest mountain seven times already, twice as a member of the rope fixing team. He has already climbed K2 (8611-meter) in Pakistan, the world's second tallest peak, twice from attempted four, Mount Makalu in Nepal twice, Mount Lhotse in Nepal once, all peaks above 8000 meters.
He has climbed other mountains of Nepal below 8000 meters also reaching the top of Muztagata (7509-meter) peak located in western Xinjiang of China.
Now, he is recognized as one of the safest hands in taking the mountaineers to top of high mountains around the world.
During the course of his climbing career, he also took many Chinese climbers including some famous names to the summit of several mountains including Mount Qomolangma. He worked as a guide for famous Chinese climber Luo Jing when he led a Chinese expedition team to the top of Mount Manaslu in 2011. It was the first successful attempt on eight-thousander and later summitted all 14 peaks above 8,000 meters of the world.
Likewise, Lakpa was the guide for another famous Chinese climber Yang Chunfeng to climb K2 in 2012. Unfortunately, Yang was killed in a terrorist attack in Pakistan in 2013 at the foot of Nanga Parbat, the world's ninth-highest mountain in the western anchor of the Himalayas, when an expedition team involving Yang was preparing to climb the mountain.
Being guide to these famous names exposed Lakpa to the wider mountaineering community in China. Ever since, he has already led over 200 Chinese climbers to the top of different high mountains so far.
Lakpa, who is now managing director of Pioneer Adventure, mountaineering and trekking company established in 2016, has maintained a very good client base in China. "My company has the largest client base in China. The Chinese climbers occupy 50 percent of my total client base in mountaineering," Lakpa told Xinhua in an interview recently. His company took nine Chinese climbers to the top of Mount Qomolangma this spring season.
Lakpa feels that he has made himself recognized in China after working with many Chinese climbers over the years. In fact, it was difficult for him to communicate with Chinese climbers initially because of language. "I used to rely more on sign language to communicate with them," Lakpa revealed.
Based on the advice of Chinese climbers, he learnt Chinese language which has been handy for him to communicate with Chinese clients. In his experiences, the Chinese climbers want Chinese food during the expedition on the mountains. "So, I arrange Chinese cooks for them," revealed Lakpa.
In recent years, the number of Chinese along with Indian citizens willing to climb Nepal's highest mountains is growing rapidly. Most of them aim to reach the top of Mount Qomolangma.
According to Nepal's Department of Tourism, it permitted a total of 67 Chinese nationals to climb Mount Qomolangma this spring season as they came third behind climbers from India (78) and the US (75) in receiving climbing permits.
The department has not confirmed how many Chinese climbers reached the top of Mount Qomolangma. It said that a total 659 climbers and their assistants reached the summit of the world's highest peak.
"The number of Chinese climbers is still low compared to Chinese population," Lakpa said pointing out that there is a lot of room for Chinese market to grow for Nepal's mountaineering sector.
Stressing on why Chinese market should be focused, Lakpa said that Chinese are among the climbers who spend lavishly for the guides. "They spend more than Western climbers in most cases. They also give handsome tips to their guides," said Lakpa.
As he talks about attracting more Chinese mountaineers, he is against the call for limiting the number of climbers on Mount Qomolangma amid reports about traffic jams caused deaths of many climbers. In this spring season, eight climbers died and one went missing on Mount Qomolangma, according to Nepal's Tourism Department.
But Lakpa does not agree that traffic jam was the main reason behind increased deaths on Mount Qomolangma this year. Instead, he blamed unfavorable weather condition, ill preparation and lack of experienced guides and climbers behind the increased deaths. "Many climbers don't listen to guide's suggestions not to climb despite their poor health and pressurize the guides to take them to the summit putting lives of both climbers and guides at risk," said Lakpa.