A Chinese action debut and South Korean family drama win at Busan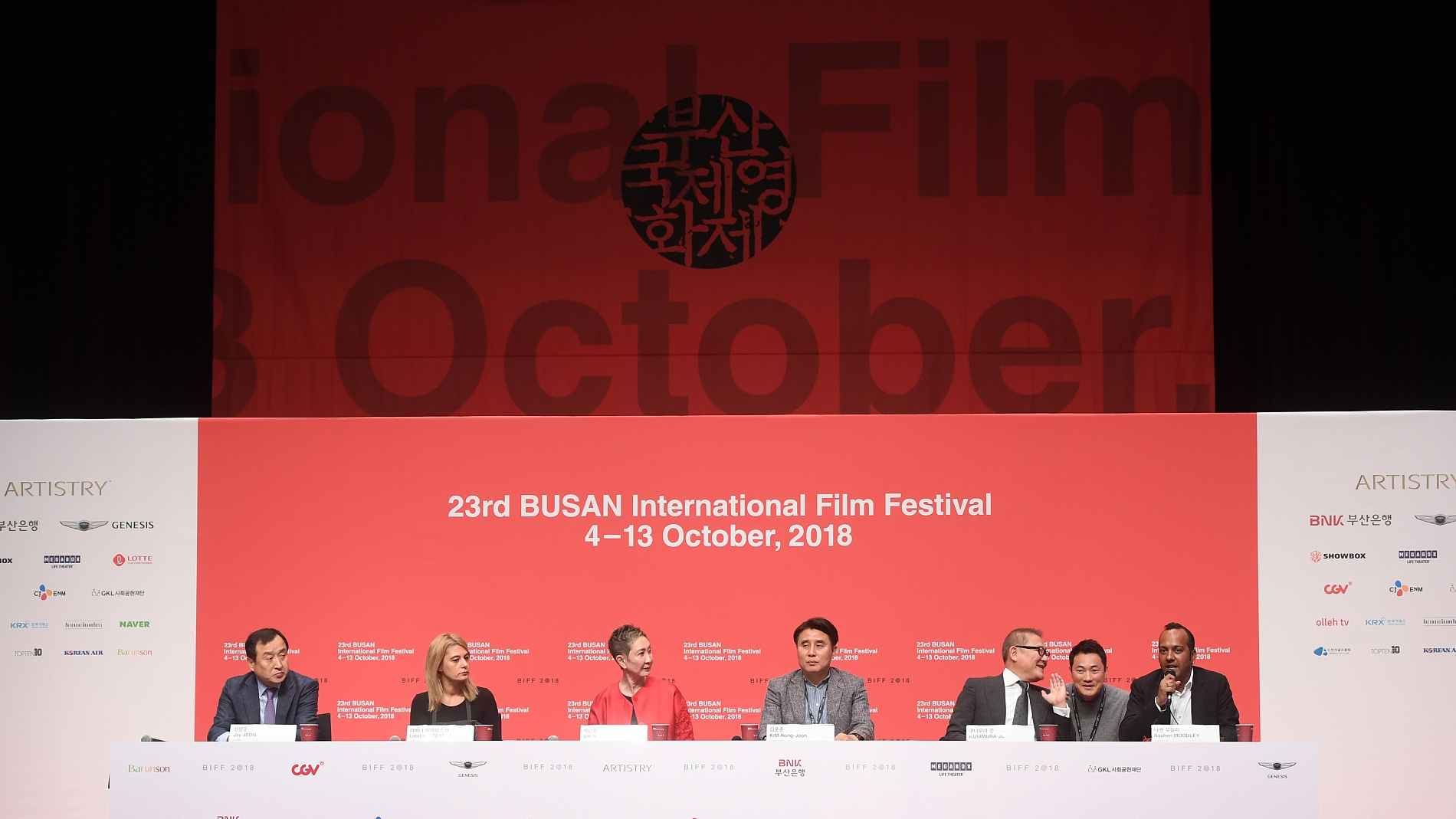 The New Currents award jury debuts at the Busan International Film Festival on October 5, 2018. (PhotoVCG)
A thrill-a-minute actioner from China and a moving S. Korean drama about a unique family reunion have taken the top prizes at Asia's largest film festival, with judges lauding both for their "original" takes.
"Savage", from first-time Chinese director Cui Siwei, pits a forest ranger against gold thieves in a snowy mountain range and won praise from the New Currents award jury at the Busan International Film Festival (BIFF) for being "strikingly accomplished and riveting".
S. Korean production "Clean Up", from debut feature director Kwon Man-ki, charts the tale of a struggling woman who is offered a salvation of sorts when she meets someone from her past.
It is a film with "perfect control and masterful psychological development," the jury statement read.
BIFF's New Currents award comes with prizes of 30,000 US dollars for the two most impressive efforts from first- or second-time Asian filmmakers and there had been a buzz around town after screenings of "Savage" in particular. The film now looks certain for wide commercial release in China and beyond.
Veteran S. Korean director Kim Hong-joon, who led the New Currents jury, said the judges were unanimous in their decision to award "Savage" its prize.
"[It shows] a mastery of genre cinema, with multi-dimensional characters and thrilling action sequences," said Kim.
Other highlights of this year's BIFF included a documentary section that featured films that scratched away at the region's political and social scars.
The gripping Taiwanese effort "Opening Closing Forgetting", from director James T. Hong, looked at how Chinese farmers survived human experimentation by occupying Japanese forces during the Second World War, but have never really recovered from the horrors they were put through.
It took the BIFF Mecenat Award for best documentary –- winning praise from the award panel for its "profound dedication to its story" -- along with Kelvin Park's "Army", which shed light on lives led by South Korea's military conscripts.
Nod to a martial arts master
BIFF draws to a close Saturday night with the gala world premiere of martial arts master Yuen Woo-ping's "Master Z: The Ip Man Legacy", a branch off from the franchise of Hong Kong-produced box office hits which were centered around the life of the man famous for teaching Bruce Lee.
This time the story focuses on one of the men Ip Man fought, played in the film by rising martial arts star Max Zhang who must face off against an evil drug lord played by Hollywood's David Bautista ("Guardians of the Galaxy"), among others.
It will be the first time in its 23-year history that BIFF has brought the curtain down with a martial arts or action film. It is a fitting tribute to the 73-year-old Yuen, the man who added the action to the likes of Oscar-winner "Crouching Tiger, Hidden Dragon" (2000), and both "The Matrix" and "Kill Bill" franchises.
"It is a great honor," said Yuen after a press preview screening of the film. "Film has always been my life. I think that martial arts films are full of humanity and I hope to share that with the world."
The Busan festival will by its close on Saturday night have screened 324 films from 79 countries and regions across its varied programs –- including 115 world premieres -- and just over 195,000 people attended over the ten days, a boost for organizers who came in to this year's event having shrugged off a few years of political pressure and controversy.
It all started in 2014 with the screening of a documentary about the Sewol ferry disaster of that year, in which more than 300 people died.
It was critical of the then government and both funding cuts and sackings followed its screening but the air has now cleared under the government of President Moon Jae-in.