Can Indian comedy drama 'Bajrangi Bhaijaan' recreate the success of 'Secret Superstar' in China?
Global Times
1519753188000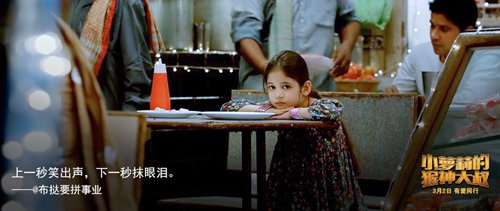 Promotional material for Bajrangi Bhaijaan (Photo: Courtesy of Beijing Joy Pictures Co, Ltd)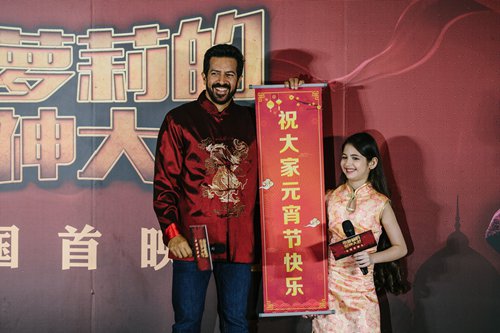 Indian director Kabir Khan (left) and actress Harshaali Malhotra (Photo: Li Hao/Global Times )
After Aamir Khan's extremely successful films Dangal and Secret Superstar, China is set to embrace yet another hit Indian movie Bajrangi Bhaijaan.
Starring Bollywood star Salman Khan and the then 7-year-old Harshaali Malhotra in the lead roles, the 2015 film follows Bajrangi (Khan), an ardent follower of the Hindu deity Hanuman, as he brings a mute Pakistani girl (Malhotra) back to her family. The film is set to hit Chinese mainland cinemas on Friday, the same day as the traditional Lantern Festival.
The choice of release date seems well thought out as the Lantern Festival celebrates families coming together and the story fits perfectly with this festive atmosphere.
The now 9-year-old actress Malhotra and the film's director Kabir Khan appeared at the film's Beijing premiere on Monday, dressed in traditional Chinese cheongsams. The two greeted fans by saying "Happy Lantern Festival" in awkward Chinese and posed for photos holding a giant Chinese festive decoration.
High anticipation
"I think India and China have so much in common. We have civilizations that have lasted for five to six thousand years and we have so much in common in the way we express our emotions, our family structures and relations," Kabir Khan said at a press conference at the Monday event when asked why he felt Indian films have been gaining ground in China in recent years.
"We often find more resonance with people in China than those living in the other parts of the world," noted the Indian director. "I am sure Chinese films can also find resonance in India."
While the recent success of Dangal and Secret Superstar in China might serve as one of the prime motivators for Chinese investors to put more stake into Indian films, the film's impressive performance in the Indian market and its relatively high rating of an 8.1/10 on IMDB and an 8.6/10 on Chinese review platform Douban have also caused movie lovers to pay more attention to Bollywood.
The latest popular Indian film to come to the Chinese mainland, Bajrangi Bhaijaan is receiving quite a lot of attention from Chinese press and movie fans.
On Douban, the film is now the third "most-want-to-see" film among the nine imported films that are hitting theaters in the mainland in March, following Golden Globe-winner Three Billboards Outside Ebbing, Missouri, which is scheduled to debut on the same date and Shape of Water, a strong Oscar contender that is set to premiere on March 16.
While admitting the parts of the film concerning religious beliefs and border disputes between India and Pakistan may be difficult to understand without certain background knowledge, reviews from Chinese moviegoers have been relatively positive so far.
"Great film! Previously I thought I might fall asleep as 141 minutes is a bit too long for me, but I was moved to tears, especially by the end of the film," Xiao Lan, a moviegoer who attended Monday afternoon's VIP screening in Beijing, told the Global Times.
"I think this film expresses the theme of religion better than [Indian film] P.K.," posted movie blogger Capital's Haha Brother on Sina Weibo on February 7, a day after a Beijing prescreening.
"It uses specific scenes rather than the typical dance scenes to show the different religious beliefs that Indians and Pakistanis hold. And unlike the comical atmosphere in Aamir Khan's P.K., these scenes are usually very serious," he wrote.
Growing a fandom
The film's lead actor Salman Khan, one of Bollywood's most influential stars, was constantly introduced at Monday's premiere as one of "Bollywood's Three Big Khans" - the other two being Aamir Khan and Shah Rukh Khan.
Overseas media and netizens have already begun predicting whether Bajrangi Bhaijaan, Salman Khan's first film to show in Chinese mainland cinemas, will help the Bollywood star to become as popular as Aamir Khan has become.
For many of Salman Khan's Chinese fans there is no need to compare the two.
"Salman and Aamir are very good friends in real life and so are their Chinese fan clubs," Huo Huo, a manager for the Salman Khan China Fan Club, told the Global Times on Monday.
Boasting some 30,000 followers on Sina Weibo and over 3,000 registered members on Baidu Tieba, China's equivalent to Reddit, the Salman Khan China Fan Club has taken on the mission of translating and updating the star's news on Chinese social media platforms.
"We also make special videos every year for his birthday. Veteran fans often call him by his Chinese nickname Xiao Sa or simply Sa," said the 25-year-old fan club manager, who fell in love with the star in 2014 after watching his film Wanted.
"He looks so hot in the film but it wasn't until a year later when I got to know more about him and his philanthropy that I officially became a hardcore fan," Huo explained.
Though the Bollywood star's current Chinese fandom is not very large compared to other popular foreign stars, "the number is growing and we have had more new members join us over the past two years," Huo noted.
The Chinese mainland release of Bajrangi Bhaijaan has excited Chinese fans such as Huo since previously they either had to make do with the Hindi-language versions of his films or wait desperately for Chinese subtitles.
"The moment we saw Salman's face on the big screen for the first time at Sunday's prescreening, many of us including me couldn't help but burst into tears," Huo told the Global Times.