Traditional weigh of shopping offers eco-friendly lesson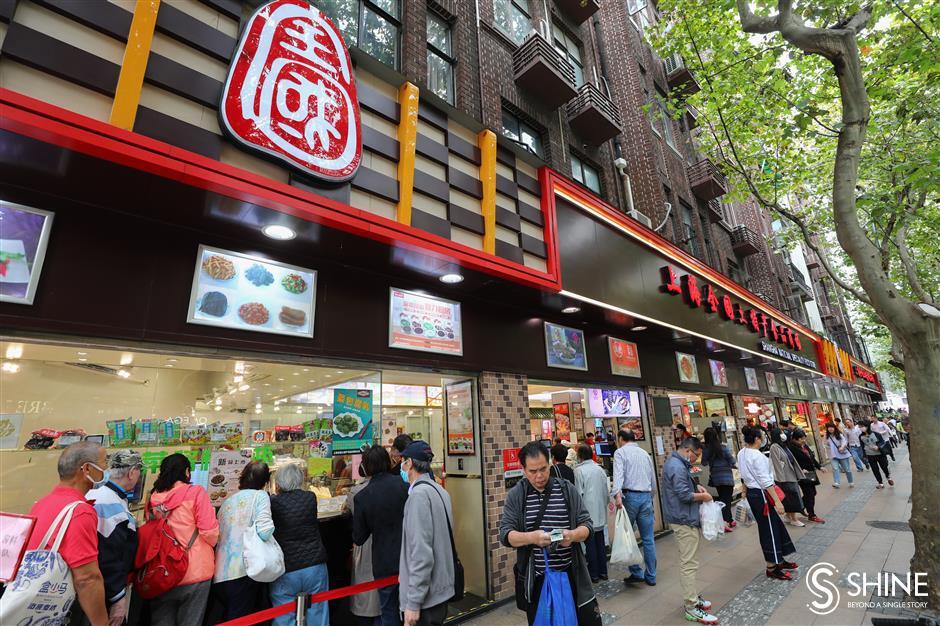 A long queue can often be seen in front of the Shanghai National Specialty Food Store, which still offers purchases by weight.
The "Bring Your Own Cup" campaign, which aims to reduce the volume of disposable, single-use coffee cups going into landfills, has been popular in Shanghai. But local residents have been practicing a version of that philosophy for decades by buying pickled vegetables and fish, sauces and fermented tofu by weight rather than pre-packaged.
Take a look.
It's nine o'clock on a Thursday morning. There is a long queue in front of a counter at the Shanghai National Specialty Food Store in Huangpu District. In the line, many people hold empty glass jars or enamel bowls to be filled. Instead of buying bottled foods, they purchase as much or as little as they want to take home.
"One elderly customer buys only two pieces of fermented bean curd every time he comes in," says Gu Enmei, a trainee manager at the food shop. "He lives nearby and wants his curd to be as fresh as possible."
Local people call such foods sold by weight as lingkao. The planned economy of the 1960s and 70s gave rise to lingkao shops. But with the improvement in living standards, people gradually abandoned an economical lifestyle. Shops like Shanghai National Specialty Food Store are like gold dust nowadays.
For Shanghai residents wedded to the past, lingkao is still an indispensable part of their daily lives.
"Compared with sauces and pickled food sold in bottles, lingkao foods without preservatives are much fresher, and, of course, more affordable," says a septuagenarian surnamed Xi. "It's an echo of today's 'clean plate' campaign. When I was a child, I lived on Songshan Road not far from here. My parents often bought food at this shop. I have eaten it all my life."
After Xi and her younger sister moved to outlying Songjiang District, they have returned to the downtown food store every two to three months to restock.
With four empty glass jars in tote bags, they ask shop assistants to ladle out a "homemade sauce" that is both salty and sweet, and peanut and sesame sauces, which are favorites of their 92-year-old mother. They also buy preserved kohlrabi to eat with Chinese steamed buns.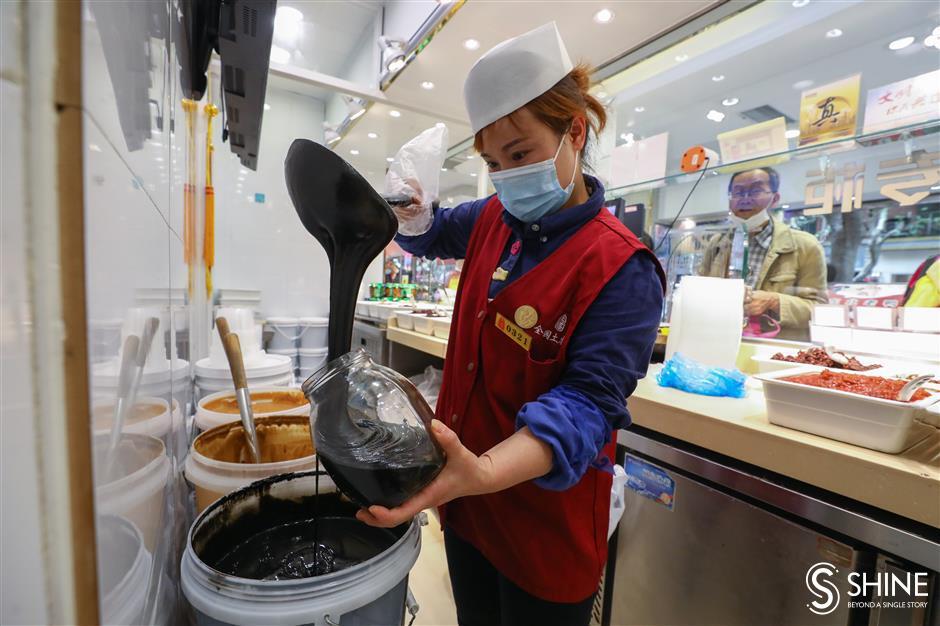 A shop assistant ladles out black sesame sauce into a customer's glass jar.
Shanghai National Specialty Food Store, located at the intersection of Huaihai Road M. and Yandang Road, was established in 1936 by the Bao brothers.
It was originally called "Peili," a name gleaned from the first names of youngest brothers Bao Peiqing and Bao Liqing. Their older brother worked as a stationmaster at the Suzhou railway depot. Taking advantage of contacts at work, the elder brother helped transport popular snacks and foods to Shanghai from different regions of China.
Walking around the food store, customers can buy not only local products like Taikang biscuits, White Rabbit candy, seasonal local treats like sugar-fried chestnuts and Chongming Island fresh food, but also more far-flung specialties like Jinhua ham, Yunnan mushrooms and Fujian dried meat floss.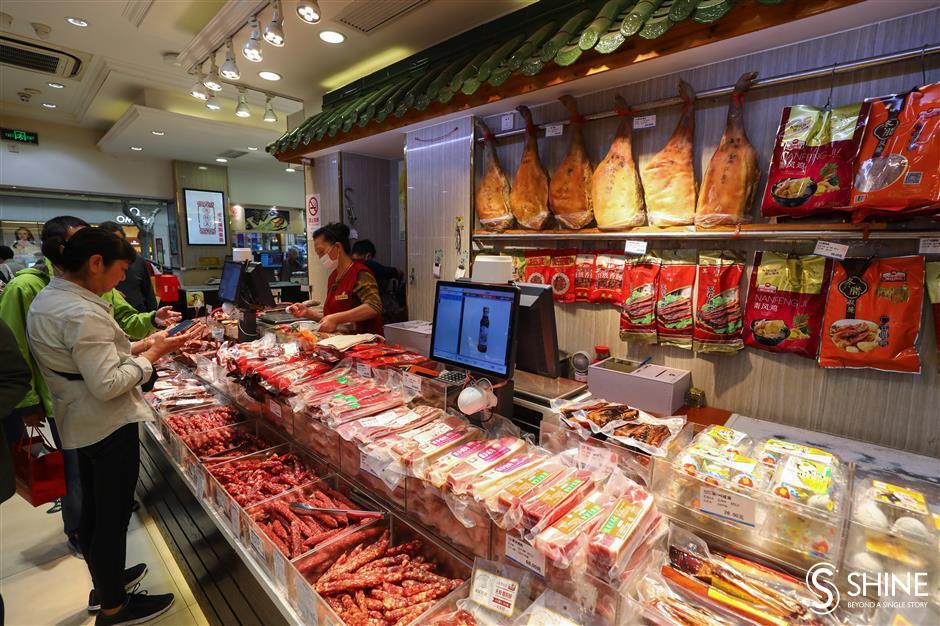 The store sells specialties, like preserved meat, from different regions of China.
However, the most crowded counter is always the one selling pickled foods, sauces and fermented bean curd.
It is said that if the sesame sauce sold in the store every year were put in 35-centimeter-tall buckets, a stack of them would be three times higher than the Oriental Pearl TV Tower.
"The counter business is always the best in our food store, accounting for about 20 percent of revenue," says Chen Zhihao, an assistant manager of the food store. "It really touches me that so many elderly people — some hobbling along on walking sticks — arrive here as early as eight in the morning, an hour before we open."
For many older people, the shop is essential for the congee they have eaten for breakfast for decades: pickled vegetables and fermented tofu accompanying a bowl of cooked rice soaked in water.
"I am used to the flavors," says a 68-year-old man surnamed Liu. "When I was a child, I lived nearby. My parents often came here to buy pickled food. When I was sent to Anhui Province during the era of helping the countryside, I used my home leave to come to this shop and buy dozens of kilograms of pickles to share with my co-workers."
Living in the Pudong New Area now, Liu rides his e-bike to a Huangpu River ferry to go to the food shop downtown, even though taking the Metro would be easier and faster than the two hours it takes him on bike and ferry.
Liu buys pickled food there once a month. While queuing up, he exchanges pickle recipes with other customers in line. Liu says he usually buys wine-preserved kaofu, or wheat gluten, and preserved turnip. He uses the former to steam with a fish, and the latter to stir-fry with edamame, or immature soybeans.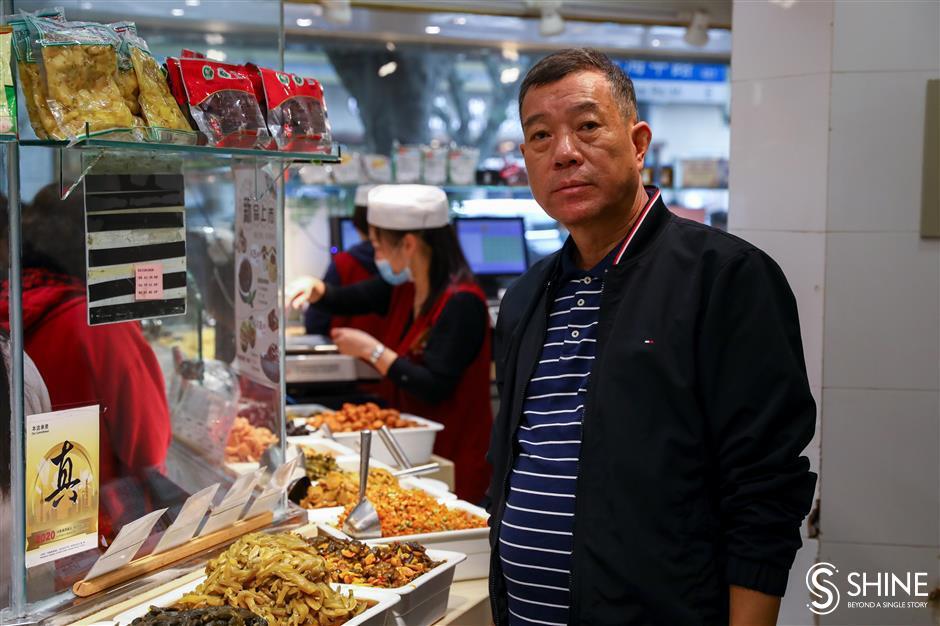 Dai Ligui, 60, a master maker of preserved foods
"Almost every local family has a bottle of pickles or fermented bean curd in their refrigerators," says Dai Ligui, 60, a master maker of preserved foods.
In 1986, Dai worked as a shop assistant at a counter in Shanghai National Specialty Food Store and later learned from a master named Ding Suolong how to make preserved foods.
"Believe it or not, a piece of tiny fermented bean curd requires over two months to make," says Dai. "Making quality preserved food is time-consuming and sophisticated. However, I enjoy it. During the process of fermentation, hair-like mold forms on the tofu. It's very beautiful and looks like cotton."
Dai is extremely strict where food quality is concerned. For one of the most popular goods, preserved baby cucumbers, Dai uses only cucumbers about 7 centimeters in length because they taste best. It's the same with pickled fish, where Dai only uses tasty black carp from Poyang Lake in Jiangxi Province.
In order to get customer feedback, Dai often mingles with customer standing in line and listens to their conversations.
He heard what customers with diabetes had to say and concocted a sugar-free fermented bean curd. He listened to elderly customers inquiring about the shrimp-roe soy sauce that was popular in the 1980s and 90s, Dai spent about two years reviving the recipe. He adjusted the flavor to cater to the current eating habits — milder and healthier.
"The shrimp-roe soy sauce is more savory than originally," says Dai. "Local people sometimes dip youtiao, or Chinese fried dough, in it. The taste is really delicious."