All-night bars given the go-ahead in Hainan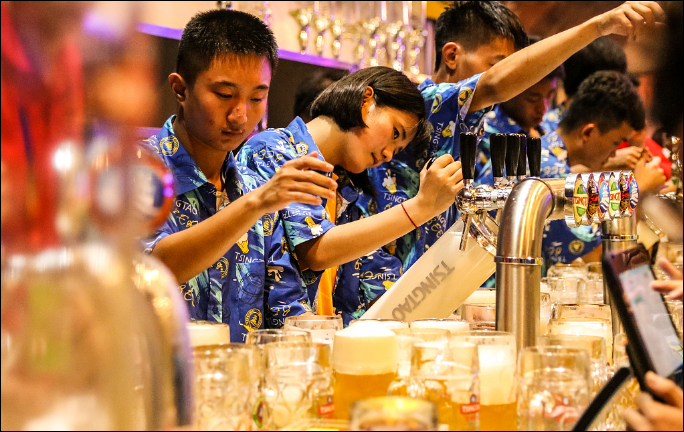 A file photo shows waitress and waiters serve beers for customers during the 28th Qingdao International Beer Festival in Qingdao, East China's Shandong province. (Photo: VCG)
Hainan has received approval from the Ministry of Culture and Tourism to establish all-night entertainment venues in key tourism areas, Hainan Daily reported Thursday.
It is hoped the move will help develop the island province into an international hub of tourism and consumption.
China plans to develop Hainan into a major global tourism destination by 2035, according to a plan issued by the National Development and Reform Commission in December 2018.
All-night bars and entertainment venues will be allowed operate in targeted areas in Hainan, the plan said.
This measure however conflicts with China's current regulations on the administration of entertainment venues, which stipulate that they "shall not be open for business from 2am to 8am every day".
To improve tourism and further open up the sector, the provincial tourism and culture authority applied to the Ministry of Culture and Tourism to allow entertainment venues remain open all night in a number of areas, which was recently approved by the ministry.
This is expected to help Hainan build international, consumer-focused commercial centers and help the province offer a wide range of cuisine, accommodation, traveling, shopping and entertainment options, and create a world-class tourism destination.