High prices for haute cuisine in France this Christmas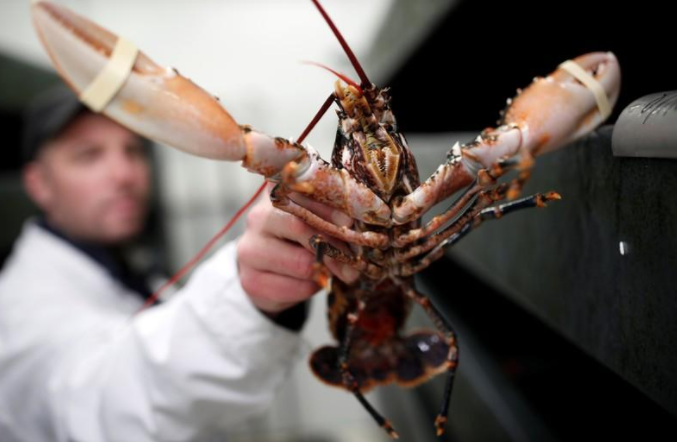 A worker holds a blue lobster at the fish pavilion in the Rungis International wholesale food market as buyers prepare for the Christmas holiday season in Rungis, south of Paris, France, December 6, 2017. Picture taken December 6, 2017. REUTERS/Benoit Tessier
If you're holidaying in France this festive season, you'll have to pay more for delicacies like foie gras and snails after a turbulent year for agricultural production that saw duck flocks decimated by bird flu and butter shortages in supermarkets.
The holiday season in France is a showcase for culinary specialities, with households spending an average of 130 euros ($150) on Christmas dinner, according to credit company Cofidis.
So it is a critical season for suppliers.
At Rungis, the giant fresh food market south of Paris that spans an area bigger than Monaco, wholesalers who make about a quarter of their annual sales in December are hoping shoppers will suck up higher prices for the sake of holiday tradition.
The biggest test may be foie gras, the rich pate made from duck or goose liver, with prices up as much as 30 percent from last year after a bird flu crisis led to a plunge in production.
"Normally, we'd receive between 200 and 250 packages a day from our (foie gras) suppliers. At the moment it's only about 120 a week," said Bruno Courillon, head of poultry firm Eurovolailles.
The foie gras industry in France's southwest has suffered a bird flu epidemic for the second year in a row. The culling of millions of ducks meant firms had to suspend production for up to 10 months.
Foie gras output this year is expected to be 44 percent below 2015's level, producers' group Cifog estimates.
Butter prices have doubled this year due to tighter international supply, and tensions between suppliers and retailers over who should bear the cost contributed to shortages in French stores this autumn.
Snails with garlicBerson, managing director of gourmet food wholesaler Dispere.
Rising prices for butter and eggs - which have been affected by a supply squeeze after a chemical contamination scare - could also push up the bill for festive desserts like the French Christmas log or "galette des Rois" cake.
French foodies may have to swallow higher prices too to enjoy black truffles, another holiday season speciality, after drought hit the harvest in southern France.
But an abundance of seafood should bring some relief.
Salmon, the focus of supply concerns a year ago after disease ravaged production in Chile, should see prices stabilize, while oysters have also been spared supply snags.
Scallops, meanwhile, could be a bargain after a record catch this year along the northwest coast of France.
The haul is four times larger than the average of the past decade, according to marine research agency Ifremer. butter are likely to cost 10 percent more this Christmas, said Yann