Nation's cinema recognized at festival in Venice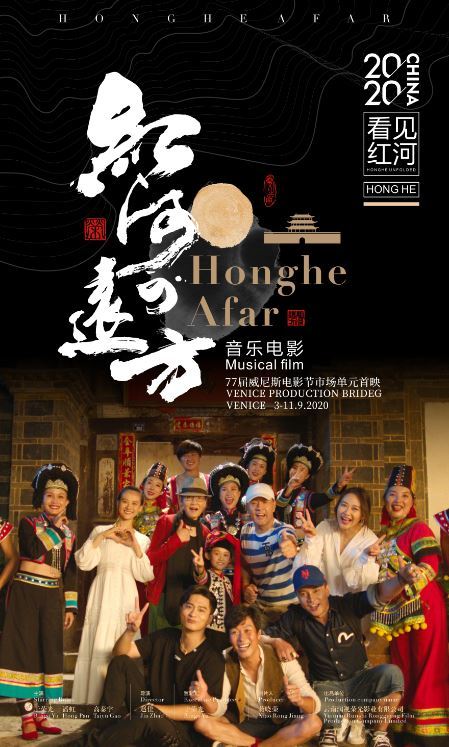 A poster for Honghe Afar. (Photo provided to China Daily)
The Chinese musical Honghe Afar took home the prize for the best music short film of the Filming Italy Best Movie Award on Sunday, becoming the nation's latest work to earn recognition at the 77th Venice International Film Festival.
As the first major in-person international movie event held in Europe since the start of the COVID-19 outbreak, the Venice festival, which started on Wednesday, is seen as a sign of hope for the recovery from the pandemic of the world's film industry. The festival ends on Saturday.
Honghe Afar, spanning five minutes, unfolds through a song performed by singers Sun Nan and Gao Taiyu. The movie displays the beautiful landscapes and ethnic customs and lifestyle in the Honghe Hani and Yi autonomous prefecture in Yunnan province.
The movie also marks the second successful effort of producers Jiang Xiaorong and Yu Rongguang to bring the award home.
Last year, their film Open the Gate to the World, a musical showcasing the beauty of the Dehong Dai and Jingpo autonomous prefecture in Yunnan, received the same prize.
Yu, also an established actor, said he was encouraged to receive the award. He said he hopes it will help Chinese stories featuring ethnic cultures reach a wider global viewership.
The movie was shot between the summer in 2019 and early this year, with the crew traveling to various locations in Honghe, including the spectacular rice terraces cascading down the slopes of the Ailao Mountains.
Two other Chinese films have also garnered international attention at the Venice festival.
Director Wang Jing's debut feature The Best is Yet to Come has been selected to contend for the festival's Orizzonti (Horizons) Competition, one of the event's major competitions.
The Best is Yet to Come, produced by Jia Zhangke, who won the Golden Lion for Best Film at the 63rd Venice festival in 2006, tells the story of an aspiring journalist's struggle amid a career dilemma.
Wang said the film, adapted from a true story, is set in 2003, a dynamic time when China was undergoing rapid development.
Ann Hui, a well-known director, received the Golden Lion for Lifetime Achievement at this year's festival, making her the first female director to receive the honor. She will also see her new movie Love After Love make its debut during the event.