IMAX works with film masters to create visual spectacles
China.org.cn
1599978561000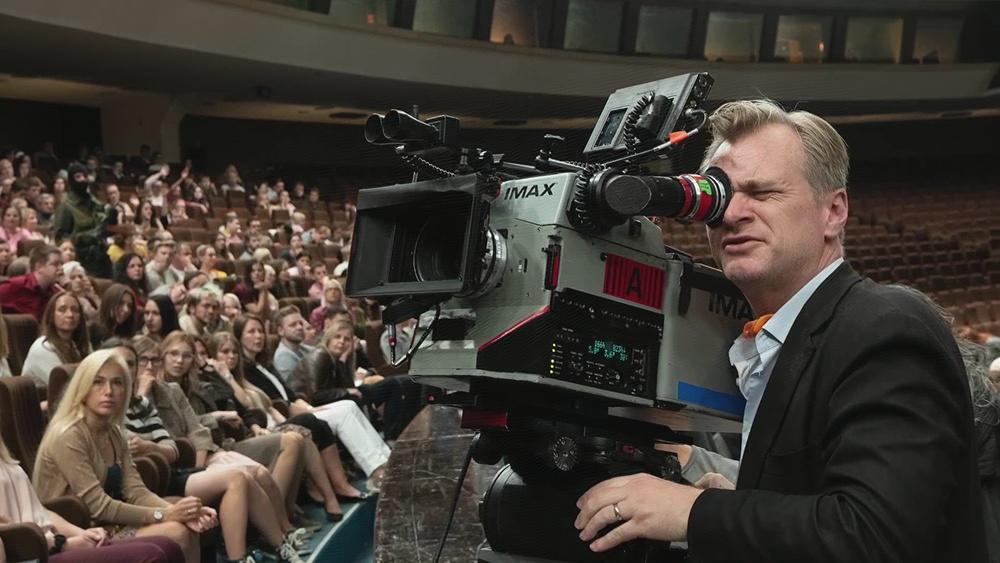 Director Christopher Nolan shoots a scene from "Tenet" in a theater with an IMAX camera. (Photo courtesy of Warner Bros.)
IMAX is working with internationally renowned filmmakers such as Christopher Nolan and Chinese director Guan Hu to present a super big screen visual spectacle that can only be enjoyed in the theater.
Since China began reopening cinemas in July, IMAX has been watching on with hope for a return to normal at the box office evenwhile other countries continue to struggle withserious conditions created by the COVID-19 pandemic. So far, IMAX versions of "Tenet" and "The Eight Hundred"have both performedwell at the box office.
Most recently, Warner Bros. Pictures and Christopher Nolan's "Tenet" continued to exceed expectations during its debut weekend, earning $11.1 million in the IMAX global box office - the largest global box office September weekend ever for IMAX - as the film expanded into China, the United States and Russia.
"We'd hoped and believed that audiences were eager to return to the movies where it is safe, and to see it in action and hear the excitement for 'Tenet' from fans around the globe is gratifying - especially for a film captured with our cameras by a visionary like Christopher Nolan," said Rich Gelfond, CEO of IMAX Corporation. "As the world's only global theatrical platform, IMAX continues to benefit from growing box office momentum throughout the world, with a strong slate of Hollywood and local language films ahead."
IMAX results were headlined by a strong performance in China, where "Tenet" earned $5.3 million, delivering 18% of the Chinese box office despite IMAX only accounting for 1% of screens in the market. Even with continued capacity limitations, "Tenet" claimed IMAX's best three-day opening weekend ever in China for a Christopher Nolan film.
"This is certainly the biggest film we've made in terms of the scale," Nolan said. "When you shoot large format, you're making a strong statement about what's important about how you're making the film."
"Tenet" is the latest of Nolan's trailblazing films shot with IMAX cameras, others of which include "Dunkirk," "Interstellar," "The Dark Knight" and "The Dark Knight Rises."
"I've been working the IMAX format for years now. And it has this extraordinary strength and power in terms of how deeply it can take the audience into the story," Nolan described. Nolan designed "Tenet" with IMAX in mind - capturing the film with IMAX cameras and also refining the film throughout post-production in an IMAX theater to further optimize how audiences would experience the film.
"It's a way of looking at imagery and story that is not only supposed to connect with you in an intellectual but also in a visceral way - you have to feel it," said cinematographer Hoyte Van Hoytema who helped shoot "Tenet" on IMAX.
Nolan is the driving force behind keeping the film format alive and has become a big supporter of IMAX. David Keighley, chief quality officer at IMAX, who has collaborated with Nolan for years, said he and Nolan began working together on "Batman Begins," and have tested, improved IMAX cameras and technologies ever since to get the best quality from the medium.
"Mr. Nolan still calls the film format the gold standard. And it really is something that's very special to me, and to a lot of filmmakers," Keighley said.
IMAX certainly has a huge fanbase in China and has inspired many filmmakers. Numerous Chinese blockbusters have been converted to IMAX for domestic audiences, while in the latest boon for the format, director Guan Hu decided to shoot his "The Eight Hundred" entirely with an IMAX Alexa camera. The war epic has grossed more than 2.5 billion yuan in China so far, with its IMAX version box office takingsexceeding 100 million yuan at the end of August.
Wang Zhonglei, CEO of Huayi Brothers Media, was in talks with IMAX before "The Eight Hundred" began shooting, and he proposed Guan that he shoot the film entirely on an IMAX camera. Guan was a little hesitant as he had not used such a camera before, but his cinematographer Cao Yu was excited and he convinced Guan as to its benefits.
"Detective Chinatown 3" is another domestic film to have been shot entirely with IMAX digital cameras. While the film was set to release during the Spring Festival 2020, the release date was postponed indefinitely due to the COVID-19 outbreak.
As an example of how far things have come, when Nolan's "Batman Begins" was released in China in 2005, the country only had one IMAX theater in Shanghai. After 15 years of development, IMAX now boasts 700 theaters in China. IMAX theaters and cameras provide a new and exciting cinematic experience courtesy of visuals that fill the entire screen, allowing moviegoers to lose themselves in an image of unprecedented crispness and clarity. That visual experience, when combined with next-generation IMAX precision sound, creates a truly immersive experience.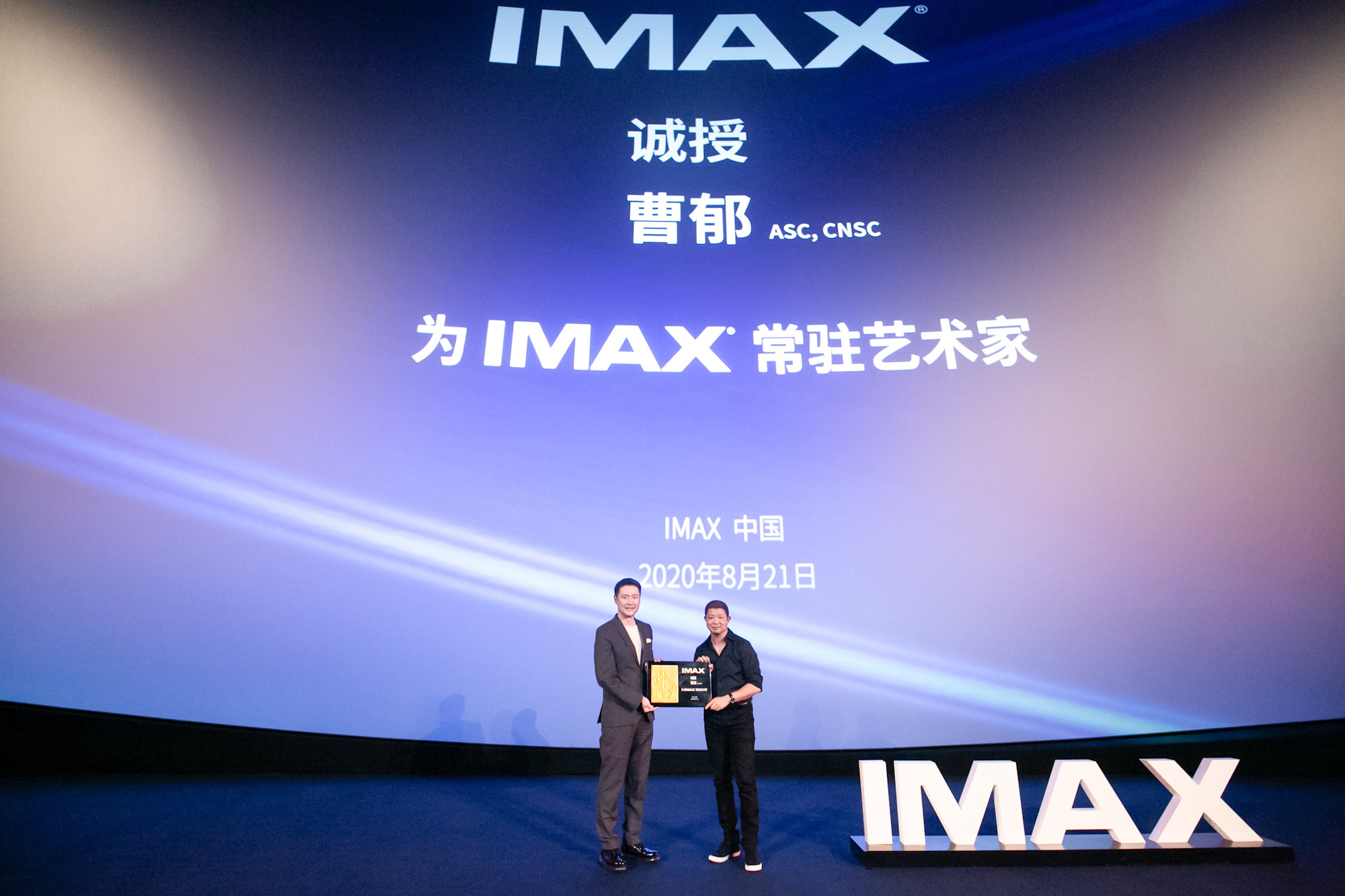 Chinese cinematographer Cao Yu is given the title of China's first IMAX resident artist by IMAX China on Aug. 24, 2020. (Photo courtesy of IMAX China)