Why Wuhan snacks gained more popularity during coronavirus outbreak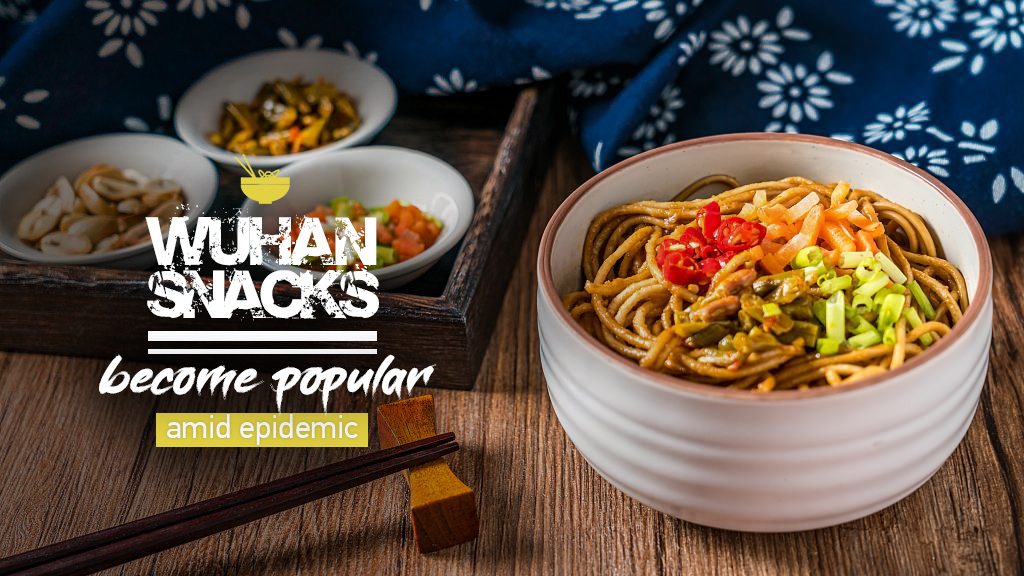 (Photo: CGTN)
From January 23 to April 8, Wuhan in central China was on lockdown because of the novel coronavirus. But one thing that the city has been able to export during this period was its snacks, which gained popularity online.
Hot-and-dry noodles, seafood tofu, and spicy duck neck are representative snacks of Wuhan. On Weibo, one of China's biggest social media platforms, Wuhan snacks were among of the most searched topics in recent weeks.
A cartoon image, titled #Hot-and-dry noodles wake up#, garnered 720 million reviews and 229,000 discussions, while the topics of #A Wuhan restaurant sells hundreds of hot-and-dry noodles in an hour# and #Specialty food from across the country cheers for hot-and-dry noodles# both racked up more 300 million reviews.
An interactive mini-game, introduced on March 20, called on people to make hot noodles as a way to express love and care to Wuhan residents.
"Wuhan once made countless bowls of hot-and-dry noodles for us. Now let's make a bowl for Wuhan," read the game description. As a result, more than 715 million bowls of noodles were made by Wednesday.
Hubei food whets appetite
Agricultural products from Hubei have also been garnering attention.
On April 6, CCTV anchor Zhu Guangquan and one of China's top livestream hosts Li Jiaqi held a special online event to help Hubei farmers and food producers sell their goods.
"There are many places to visit in Wuhan, such as East Lake and Yellow Crane Tower. But not having a bowl of hot-and-dry noodles is a real pity!" said Zhu. A total of 120,000 sets of instant hot-and-dry noodles were sold in a few seconds.
From lotus roots in Honghu Lake to shiitake mushrooms in Suizhou, from fish cake in Jingzhou to green tea in Enshi, the two-hour live streaming sells Hubei food valued at more than 40 million.
Food carries love
Although delicious food always makes people crazy, it is not a coincidence that many people suddenly have shown enthusiasm in snacks from a same place in such a short period of time.
For Chinese, food is not only for subsistence, but is also tied to people's collective memory and sense of identity.
Demand for hot-and-dry noodles, the most well-known Wuhan snack, and other Hubei foods, carries people's empathy to and shows their solidarity with Wuhan and Hubei residents.