CFA aims to shake off plight after Lippi resignation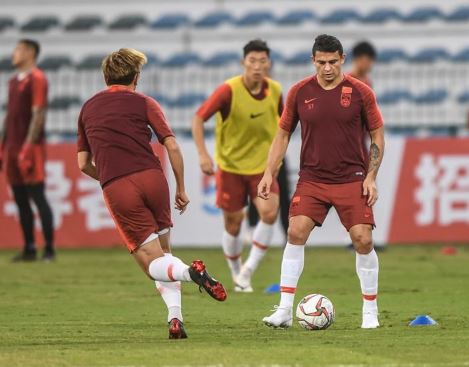 Ai Kesen (front R) of China warms up before the group A match between China and Syria of the FIFA World Cup Qatar 2022 and AFC Asian Cup China 2023 Preliminary Joint Qualification Round 2 in Dubai, the United Arab Emirates, Nov. 14, 2019. (Photo: Xinhua)

BEIJING, Nov. 15 (Xinhua) -- The Chinese Football Association (CFA) has accepted Marcello Lippi's shock decision to resign as China coach and will embarks on getting rid of its plight after his team lost to Syria 2-1 in a 2022 World Cup qualifier, its spokesman has told Xinhua on Friday.
According to the spokesman of CFA, Lippi did not announce his resignation to the CFA through official channels before the post-match press conference. The priority for the CFA is to summarize the problems and discuss its next steps, and to also appoint a new China coach, who should be responsible and familiar with the CFA League and team members, and set up suitable tactics for them.
After the agonizing loss caused by a second half own goal in Dubai on Thursday, China now sit in second place in the five-team Group A with seven points from four games, five points behind group leader Syria.
Since only the top team from the eight groups and the four best second-place finishers will advance, the Chinese side are in danger of missing the final round of the Asian Zone qualifying.
"The result was disappointing and not even meet the expectations. It has many reasons and we cannot just blame the coach, or some team members. The CFA has the greatest responsibility. We will hold an internal meeting to comprehensively summarize the problems," the spokesman said, adding that the program for training Chinese football talents is not enough to support the high-level national team.
The CFA hope the team can bounce back as there are still four games in the following World Cup qualifiers including three games at home.
The spokesman said the CFA had been fully trusted and supported Lippi and his coaching team. During the preparations for the two games with the Philippines and Syria, Lippi said the team morale and their confidence were good.
The 71-year-old Lippi first took charge of Team China in 2016, before leaving the role in January this year when his contract expired after China lost 3-0 to Iran in the AFC Asian Cup. In May, the World-Cup-winning coach was re-appointed as the head coach of the Chinese team.
Apart from hiring Lippi as the head coach, the CFA have also naturalized talents from around the world including Brazil-born striker Elkeson and Li Ke whose English name is Nico Yennaris in a bid to qualify for the 2022 World Cup finals.
"They contributed a lot to the team and the CFA will make specific regulations for the management of naturalized players," the spokesman said.
China has not qualified for the World Cup finals since its debut appearance in 2002, when Bora Milutinovic's team lost all three games in South Korea against Costa Rica, Brazil and Turkey.