More Chinese youth are obese, have poor eyesight
Global Times
1574380870000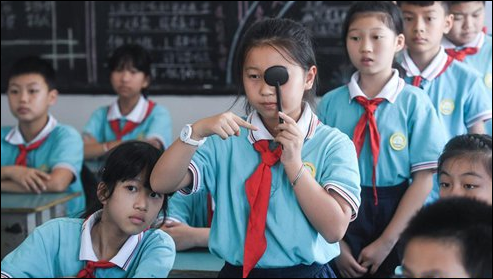 A student checks the eyesight in Donglin primary school in Donglin Township of Huzhou City, east China's Zhejiang Province, Sept. 4, 2018. Classes are being taken to popularize the knowledge of protecting eyes as China aims at curbing the rise in nearsightedness-or myopia-among children and teenagers. (Photo: Xinhua)
The number of obese children and teenagers and those with poor eyesight increased in 2018, a report revealed.

The rate of obesity among fourth-grade primary school students and eighth-grade middle school students increased 1.9 and 2.2 percentage points respectively compared with 2015, the Xinhua News Agency reported.

About 8.8 percent of fourth-grade primary school students were obese, and the percentage of r eighth-grade students was 9.7 percent in 2018, according to the 2018 compulsory education quality monitoring report, published by the Ministry of Education on Wednesday.

The report also showed that nearly 40 percent of fourth-grade students and 70 percent of eighth-grade students suffered from poor eyesight in 2018, up 2 and 3.5 percentage points respectively compared to 2015.

The report is based on tests of 200,000 students in fourth and eighth grades nationwide. It's the first time the report included different subjects in compulsory education such as math, health and physical education.

Fourth-grade students had higher confidence and interest in learning mathematics than eighth-grade students who the report said suffered from greater anxiety.