Online group wedding held for COVID-19 fighting couples on China's 'I love you' day
People's Daily
1590014083000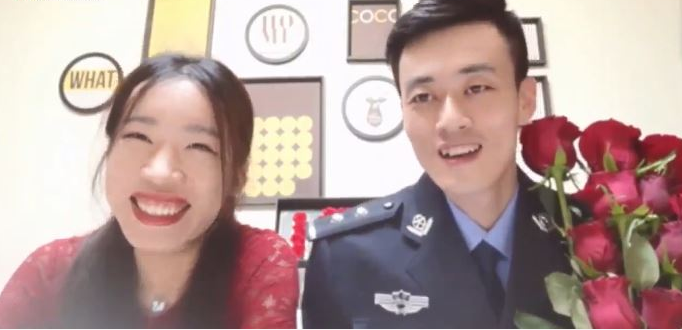 Screenshot of the online group wedding video posed by People's Daily live platform on May 20, 2020, a day considered as the "I love you" day in China. (Photo: Global Times)
A hundred couples who have been fighting in the battle against the COVID-19 outbreak took part in a special online wedding ceremony on Wednesday, China's "I love you" day, with prestigious academicians serving as witnesses, celebrities as best men and maids of honor, and millions of viewers celebrating remotely.

May 20 is considered a day to express one's love, as the pronunciation of "520" sounds similar to the phrase "I love you" in Chinese. The year 2020 is even more special, because it triples the "love" as there are three "20s" in the date.

To mark the once in a lifetime day, a special group wedding was held for couples who had been either fighting on the frontline of the COVID-19 epidemic or serving the public to protect their safety. Many of them had postponed their wedding plans as a result of the outbreak.

The wedding ceremony was live-streamed at 10:08 am on Wednesday. Couples dressed in suits and wedding dresses received blessings from two witnesses, epidemiologist Li Lanjuan, an iconic figure in the national fight against COVID-19, and Huang Xuhua, a recipient of the Order of the Republic and "father of China's nuclear submarine."

"Thank you for your contribution to the fight against the epidemic. How you came together and supported each other is such a moving story. Here I stand, sincerely wishing you a long and happy life," said Huang.

Liu Hongli, a nurse, and Su Tao, a policeman from Ziyang, Northwest China's Sichuan Province, were one of the couples, reported Hongxing News on Wednesday.

Liu had been working in the fever clinic and the infection isolation ward at a hospital during the COVID-19 outbreak, while Su had been on duty at the checkpoint at the border of the city.

After learning that their wedding, which had been scheduled for February but was later canceled, would be held online on May 20 with participants from across the country, the couple said that this sudden happiness was "unreal."

"It wasn't a big deal working on the frontline during the epidemic. After all, it was our duty. This 'treat' for us is so surprising and exciting," said Su.

Singers, actors and other celebrities also joined the wedding and celebrated with the couples.

The topic of the online group wedding received 210 million views on Sina Weibo, China's social media platform, as of press time, with many netizens sending greetings and blessings.

May 20 also marked the day when couples around the country received their marriage licenses to mark their union.

People began lining up early in morning at their local civil affairs bureaus.

Zhao Qinglin, a 27-year-old taxi driver in Liuzhou, South China's Guangxi Zhuang Autonomous Region, told the Global Times that he and his girlfriend went to the civil affairs bureau at 9:00 am in the morning, where there was already a long queue.

"I knew there would be a lot of people coming to get their marriage registered today, but I did not expect this many. It seems that everyone wants to seize today's chance," he said.

He took a video while waiting in the line and planned to save it for his future kids. "I just wanted to let my child know that his parents were married on such a unique and loving day," he said.