More young people set to travel for Spring Festival
During the weeklong Spring Festival holiday this year, 450 million people are expected to travel, and taking trips, rather than returning to their hometowns, has become the most popular way to spend the holiday for young people. The Spring Festival falls on Jan 25 this year.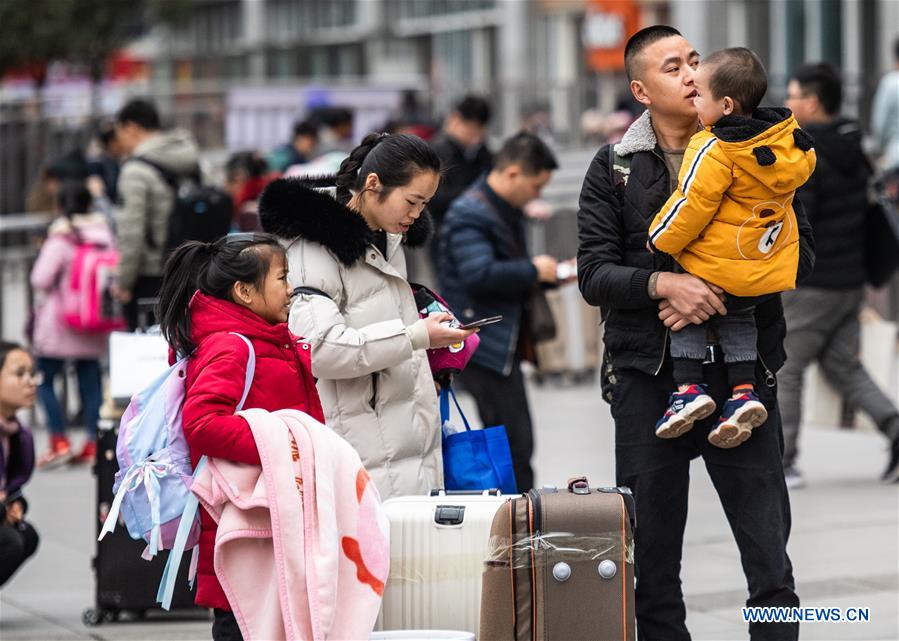 Passengers wait to enter Guiyang Railway Station in Guiyang, Southwest China's Guizhou province, Jan 10, 2020. (Photo: Xinhua)
This year, the Palace Museum in Beijing will celebrate the 600th anniversary of the Forbidden City, and experiencing a royal New Year in Beijing has become a hot choice. Besides, the Oriental Pearl Tower and Disneyland in Shanghai, West Lake in Hangzhou, Zhejiang province, Chimelong Ocean Kingdom in Zhuhai, Guangdong province, and the panda breeding base in Chengdu, Sichuan province, are expected to see the largest numbers of visitors.
Going skiing in northern cities and visiting hot springs, as well as going to warm places to avoid the winter chill have become main travel themes for the Spring Festival. Among the Top 10 destinations for group tourists, Beijing, Kunming, Guangzhou, Lijiang and Xiamen top the list, Trip.com found.
"Young people who come from smaller cities are showing a stronger willingness to travel. The number of travelers who were born in the 1990s and come from third-and fourth-tier cities such as Wuhu, Anhui province, and Baoding, Hebei province, surged more than 100 percent year-on-year," said Sun Jie, CEO of Trip.com Group.
As of Dec 31 last year, of those who booked travel products on Trip.com Group, the country's largest online travel agency, more than 30 percent chose to depart before the Lunar New Year's Eve.
Starting Friday, the number of people departing will continue to rise, and the travel peak is expected to occur on Jan 21.
More than 70 percent of those traveling have chosen high-speed trains, and most of them are born in the 1980s and 1990s. Besides, hotels near airports and train stations are in high demand, Trip.com found.
Among those who will take trips during the holiday, those born in the 1990s account for 45 percent of the total, people born in the 1980s make up 26 percent, and those who were born after 2000 took 11 percent.
Meanwhile, Thailand, Japan, Indonesia, Singapore and Vietnam are the most popular nearby overseas destinations for Chinese travelers during the Spring Festival holiday. Going to Japan to visit hot springs and enjoy beautiful snowy scenery is particularly popular, according to Tuniu Corp, an online travel agency based in Nanjing, Jiangsu province.