China's single-arm sailor finished round-the-world journey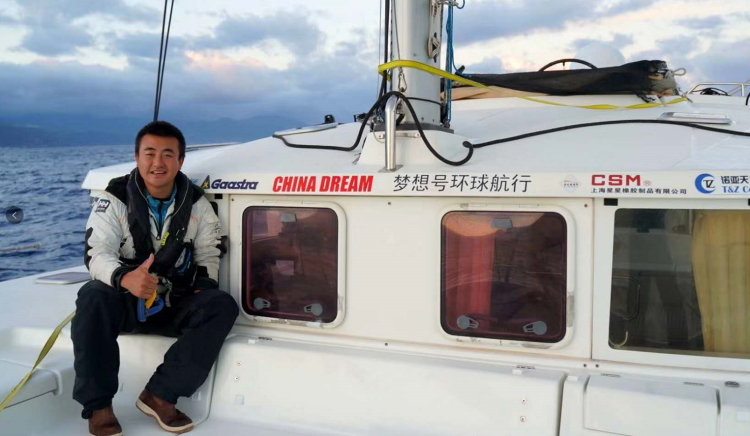 File photo of Xu Jingkun. (Photo: CGTN)
China's one-arm sailor, Xu Jingkun, arrived in The Azores, Portugal on June 4, completing his three-year round-the-world journey, setting a Chinese record of 34,000 nautical miles covering more than 40 countries across the globe.
As a native from east China's coastal city of Qingdao, the 31-year-old veteran skipper started the voyage with his wife on the Catamaran boat "Qingdao Dream" from Turkey in June 2017.
Xu recalled his last lag of journey from St. Helena island in southern Atlantic, "We encountered a week of storms, so we had to take a zig-zag route to avoid giant waves and spend some 10 extra days. In the end, we were awarded with a 20-kilogram tuna from Heaven. Thanks for the reward from the Atlantic."
Now located some 1,500 Kilometers from Portugal, Xu will be staying on the island for a while before heading to the European Continent, "I am healthy but feel a bit tired after 35 days of sailing. I am desperate to go back to China, but I can't due to the pandemic. And it may take several months before I could go to the European Continent because I need time to make boat arrangement."
Xu lost his left forearm during a firework accident when he was 12. He and his teammates represented China in a competitive sailing at the 2008 Paralympic Games in his hometown of Qingdao.
He is also the first one-armed yachtsman to sail through China's coastline in 2012 and complete the transatlantic Mini Transat 6.50 yacht race on his own in 2014.
As the ambassador of Qingdao, which is dubbed as China's Sailing City, Xu promoted sailing and Chinese traditional culture along his trip to other peoples.