Clinical trial results prove efficacy and safety of TCM capsules on mild COVID-19 patients
Global Times
1590622063000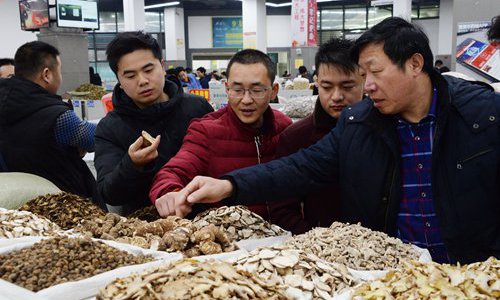 Traders bargain inside the traditional Chinese medicine (TCM) market in Bozhou, East China's Anhui Province on Monday. The market reopened on Monday after the weeks-long Chinese Spring Festival holidays. The TCM market in Bozhou is said to be one of the most wide-ranging and active specialized markets for Chinese medicinal materials, with the market's annual sales standing at 30 billion yuan ($4.73 billion) in 2017. (Photo: VCG)
Chinese experts and doctors have provided clinical trial data on the efficacy and safety of traditional Chinese medicine (TCM) Lianhua Qingwen (LH) capsules on COVID-19 patients, which show that the capsules can apparently relieve symptoms and increase the cure rate of patients exhibiting mild symptoms.

Trial data showed after 14 days of regular treatment, assisted with LH capsules, the resolution rate of main clinical symptoms (fever, fatigue and cough) hit 57.7 percent on the 7th day of treatment. It reached 80.3 percent on the 10th day, and 91.5 percent on the 14th day, according to a document that LH capsules producer Yiling Pharmaceutical sent to the Global Times on Wednesday.

Overall, the treatment with LH capsules for 14 days resulted in a significantly higher rate and a shorter time of symptom recovery than the control group (usual treatment), according to a paper published online by Phytomedicine, a monthly peer-reviewed medical journal.

LH is a TCM containing 13 herbs, including Lonicera japonica, Forsythia suspense and Rhodiola rosea. It has been marketed since the SARS crisis in 2003 in China and has been widely used in the country to treat various infectious diseases, like SARS, H1N1 and COVID-19.

Trial data showed that Lonicera japonica and Forsythia suspense in the capsules could block the binding of the coronavirus with human blood vessels; and Rhodiola rosea could inhibit the inflammatory response in lung tissue, according to the paper.

The rate of viral assay results from positive to negative and the rate of conversion in patients from mild to severe, however, did not show any significant differences between patients accepting LH capsules and those who did not, according to the paper.

Yang Zhanqiu, a deputy director of the Pathogen Biology Department at Wuhan University, told the Global Times on Wednesday that the results indicate that LH capsules don't have antiviral effects.

But Cui Yongqiang, a chief physician at a hospital affiliated with the Chinese Academy of Chinese Medical Sciences in Beijing, noted that the results conform to previous observations that TCM can improve clinical symptoms of COVID-19 but cannot cure COVID-19 patients or kill the novel coronavirus directly.

The results don't overturn the fact that LH capsules are effective in treating novel coronavirus pneumonia presenting light symptoms , Cui told the Global Times on Wednesday.

The trial was conducted jointly by more than 20 COVID-19 designated hospitals across the country under the leadership of top respiratory disease expert Zhong Nanshan, renowned epidemiologist Li Lanjuan and China's top medical adviser Zhang Boli, according to Yiling's document.

A total of 284 COVID-19 patients engaged in the trial and were equally separated into two teams: One team received LH capsules while the other did not.

This is the first multicentered randomized clinical trials that demonstrate the safety and efficacy of LH capsules in COVID-19 patients, according to the paper.

Future double-blind, prospective and randomized controlled trials are needed to fully evaluate the efficacy of LH capsules in a larger patient population, read the paper.

By the end of April, more than 70,000 out of 80,000 confirmed COVID-19 cases in China have been treated by TCM, and more than 90 percent of patients in the hard-hit Hubei Province have taken TCM, according to media reports.