Ups and downs, Xie Zhenye honored to be "China's Bolt" with new Asian record in 200m
LONDON, July 22 (Xinhua) -- China's Xie Zhenye broke the Asian record for men's 200 meters as he won the title in 19.88 seconds at the IAAF Diamond League here on Sunday.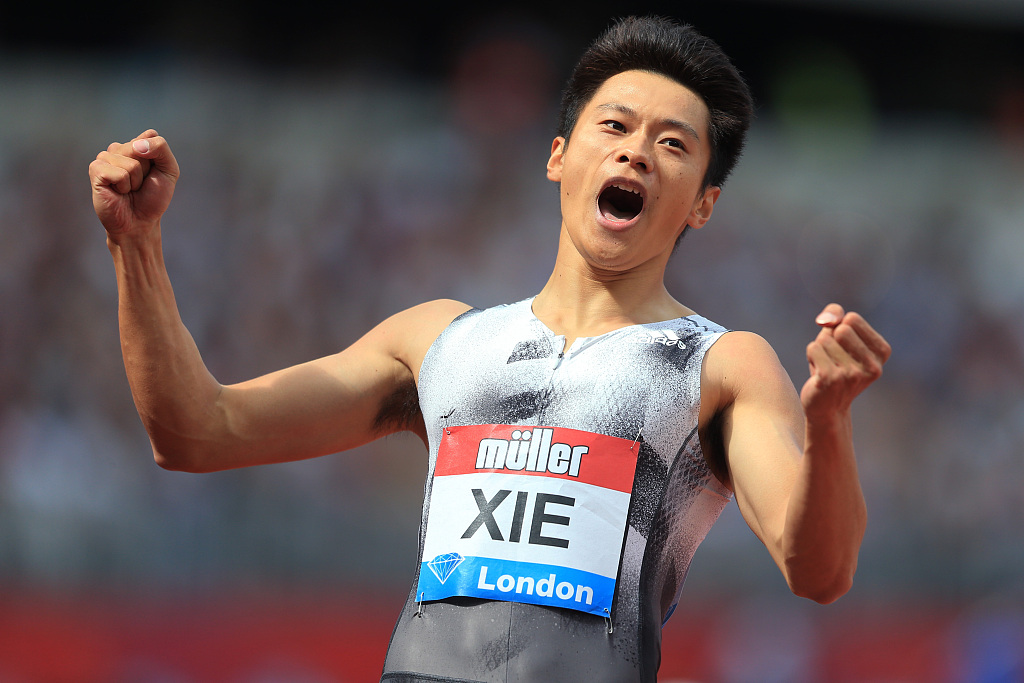 Xie Zhenye (Photo: VCG)
The new Asian record holder beat local hero Miguel Francis, who finished second in 19.97 and broke the Asian record of 19.97 set by Nigerian-born Femi Ogunode of Qatar in 2015.
Xie, 26, was born in Shaoxing, southeast China's Zhejiang province. Unlike many Chinese sprinters who start early, he did not begin his running career in Shaoxing Sports School until the age of 13.
With his promising athletic talent, in the following year, Xie was selected to Zhejiang Provincial Sports School where he focused on 200m and achieved better results than in 100m.
In 2010, 17-year-old Xie made his mark at the Singapore Summer Youth Olympic Games, sealing first at 21.22 seconds. In the following two years, Xie has won 200m titles in the seventh Chinese City Games and the 15th Asian Junior Athletics Championship.
However, Xie's first Olympic experience was not a positive one. He got eliminated from the men's 200 meters in preliminary rounds of London 2012, ranking sixth in his group.
At the 2014 Inchon Asian Games, he was disqualified after a false start. However, in the men's 4x100m relay race, Xie, together with teammates Chen Shiwei, Su Bingtian, and Zhang Peimeng, grabbed a gold medal for China with a new Asian record of 37.99 seconds.
Recent years have seen Xie achieving brilliant results in men's 100m. He improved his personal best to 10.08 seconds in the preliminary heats at the 2016 Rio Olympic Games, and at the 2017 National Games, he beat Su Bingtian in 10.04 seconds as a surprise winner.
During the year 2018, Xie has made impressive breakthroughs. At the first Athletics World Cup on July 15, he finished first with a time of 20.25 seconds in the men's 200 meters. Then on July 21, he finished eighth in the men's 100m final in London Diamond League in 10.01 seconds.
Xie injured his ankle in the 4x100m relay of the Diamond League where he stumbled and nearly fell to the ground in the baton pass.
The immediate examination showed he had damaged his soft tissue and ligaments but did not injure his bones.
But the re-examination did not go well. "After a serious discussion, my team and I decided that it would be better for me to quit the Jakarta Asian Games for my long-term good. I'd like to say sorry to the fans who support me all the time. Sorry to let you down," he posted on his social media on August 16, 2018.
After recovering, Xie made an amazing comeback. He clocked 19.88 seconds to break the Asian record of 19.97 at the same game this year. And it was made from the ninth lane -- another "ninth lane miracle" was created after Liu Xiang won the men's 110m hurdles at the Osaka world championships in 2007.
"Breaking the 20-second barrier has always been one of my biggest dreams! Today, I just did it!" Xie said excitedly after securing Tokyo 2020 qualification.
Since the retirement of Jamaican Bolt, the men's 200m competition has not yet been dominated by anyone.
Xie will enter the Games in Tokyo as one of the contenders for the 200m podium. His personal best mark is now faster than the previous gold medal winner Ramil Guliyev at the 2017 IAAF World Championships, who finished men's 200m at 20.09 seconds.
The new Asian record holder has laid out his ambitions for the 2020 Tokyo Games. There is more to be expected from China's in track events.