Spanish and Chinese musicians shine at violin-piano duet in Beijing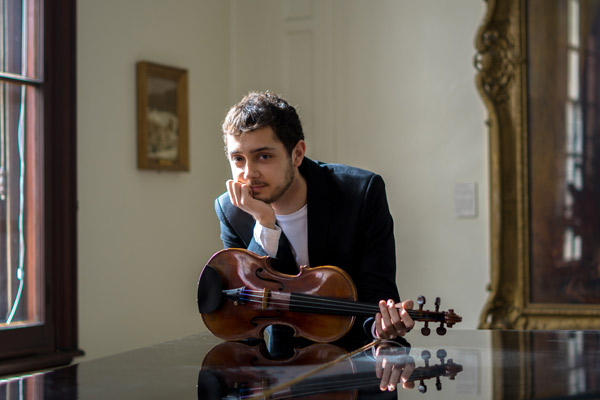 Spanish violinist Rodrigo Checa Lorite. (Photo: China Daily)
Young Spanish violinist Rodrigo Checa Lorite captivated music lovers in Beijing with a duet concert, accompanied by Chinese pianist Lei Kefan at the Instituto Cervantes on Friday.
The hour-long performance paid tribute to celebrated musicians Ludwig van Beethoven (1770-1827) and Johannes Brahms (1833-1897), featuring Beethoven's Violin Sonata No 7 in C minor, Op 30 and Brahms' Violin Sonata No 3 in D minor, Op 108.
Born in the Spanish city of Cordoba in 1999, Lorite received his bachelor's degree at the Royal Academy of Music in London - one of the world's most prestigious music schools. He is now a member of the National Youth Orchestra of Spain (Joven Orquesta Nacional de Espana, or JONDE) and has performed with his orchestra in famous concert halls such as the Konzerthaus Berlin.
Lorite just finished his Spain tour in June and is expected to travel to Ordos in North China's Inner Mongolia autonomous region later this month, holding two shows at the Great Theater of Ordos on Friday and Sunday.