Chinese millennials brush off anti-China racism following coronavirus outbreak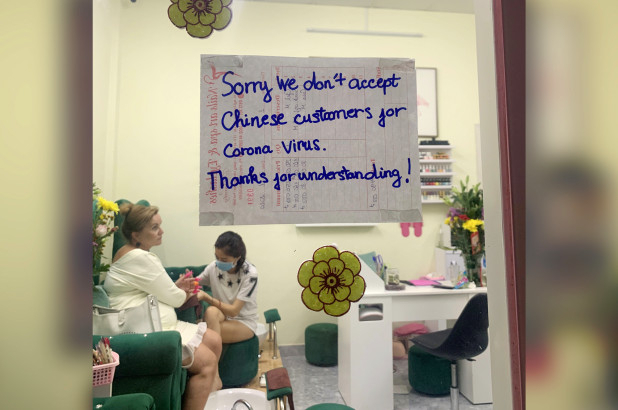 A sign on the door of a nail salon in Phu Quoc, Vietnam, tells potential Chinese customers that they are not welcome due to the coronavirus outbreak. (Photo: CGTN)
For China's internationally-minded millennials, the recent rise of anti-China racism abroad as a result of the novel coronavirus epidemic has been offensive, but the disease's exposure of fissures within Chinese society has also troubled some.
Offended but understanding
As news of a South Korean petition against Chinese visitors to the country and Asian-looking students in the UK being pelted with eggs reached China, alongside a flurry of racially insensitive foreign media coverage and signs on restaurants overseas barring Chinese customers, such incidences of "Sinophobic" sentiment in recent weeks have been "no surprise" to Lizzie, a 25-year-old former English teacher from central China's Hubei Province, currently living in Beijing.
Having studied in the UK and traveled abroad, she did not find the racist bent of one faction of the global response to China's coronavirus epidemic to be new. But it was still offensive.
"Everyone around the world may get this illness, not just (the) Chinese," Lizzie said. "It's rude and cruel to blame someone during this time."
Sympathy for Chinese people in the midst of a health crisis, and the perception that anti-China racism rubs salt in this wound, was shared among other Chinese millennials CGTN spoke to. Sinophobic behavior is "not news," said Annie (name changed), 26, an events manager from Beijing still based there. "But I was surprised it (has become) stronger nowadays when many Chinese people are suffering from this virus, she added.
Nonetheless, some young Chinese were able to brush off their angry and hurt feelings. "Cliched prejudgements exist everywhere," said Jiehua, 31, who works for an art gallery in Beijing but is originally from Guangxi Zhuang Autonomous Region. She attributed offensive behavior to a lack of education and suggested that those abroad perpetuating this may have "never traveled."
"It is normal that people are scared of death. If one tries to attack any Chinese individuals physically or mentally, maybe he/she is just acting out of fear. We cannot force anyone to accept the disease but no one should hurt any others for their sickness," Annie said. "Now people are also panicking due to the virus, not major racism," Jiehua agreed.
What sentiments have been gaining traction?
An article first posted on LinkedIn in early February by Italian-American author and entrepreneur Mario Cavolo, who is based in northeastern China's Liaoning Province, has been widely shared among Chinese netizens and since republished by some Chinese media platforms. "Something's Not Right Here Folks | A Look at USA 2009 H1N1 Virus Compared to China 2020 Corona Virus" has struck a chord with the Chinese audience, with some posting on Weibo that foreigners were transferring anti-China animosity onto coronavirus paranoia.
One well-meaning, if clumsy, attempt to establish a panacea also raised eyebrows on Weibo. Mayor of Florence Dario Nardella initiated a "hug a Chinese" movement on February 1 via Twitter, when the Italian government had announced the suspension of all flights between China and Italy a day earlier. Nardella's initiative was ridiculed on Weibo by some Chinese netizens, with one user saying that people should "just act normal."
Race is brought into the international discussion on China whenever it is convenient, according to one academic. When researching how the "Rise of China" was perceived in racialized terms in Western countries, and focusing on Germany as a case study, "We found that the historical 'Yellow Peril' perception of colonial and imperial times was still surprisingly present, for examples in depictions of (the) Chinese as a faceless, threatening, dangerous mass," said Daniel Marwecki, senior teaching fellow at the School of Oriental and African Studies in London. "We argue that there is a kind of racist repertoire that can be drawn from whenever the 'need' arises – such as now," he added.
Empathetic towards China's internal divisions
Some Chinese people's survival instincts during the novel coronavirus outbreak has exposed divisions within domestic society, as pointed out by some of the young people CGTN spoke to.
"We cannot blame foreigners because we are slightly biased ourselves, against each other," said Robert, a 30-year-old lawyer from Shanxi Province living in Chengdu, southwest China's Sichuan Province, referring to recent incidences of Chinese people not welcoming those from Wuhan, the city at the center of the coronavirus epidemic.
Similarly, Jiehua described division within China as "worse than racism."
But, Robert was also hopeful. "People will go back to their normal lives... and their biased opinions will fade away," he reasoned.
Stories have been circulating about locals in Chinese cities such as Shanghai feeling less than thrilled about the masses of migrant workers returning after the Spring Festival holiday, during which time most people typically journey back to their home towns to spend time with family. Fears about coronavirus contagion have been exacerbated as much of China has been on the move as a result of the travel rush that marks the festive season's end.
But, Annie explained that such protective, territorial feelings recur every year because "most people just don't want share their own living supplies and resources, also they don't want compete with others for the same job position."
Chinese people's relatively recent international awareness, thanks to study and travel abroad as well as the rise in popularity of foreign television shows and other popular culture, has meant that their exposure to the nuances of "Sinophobic" racism is fairly new. "We don't really know or understand racism in China," said Hope, in her late twenties and from northwest China's Gansu Province, who works organizing programs for foreigners to learn Chinese in Beijing. "In China, the divide is more between rich and poor people."
But while these millennials acknowledge the inequality at home, China has set a target of alleviating all domestic poverty this year. Also, despite the tales of division, there has been a strong show of Chinese unity with donations of cash and resources flowing into Wuhan and other virus-hit cities in central China's Hubei Province more broadly.
All those CGTN spoke to had all studied or traveled abroad, or both, and spoke English. Some had non-Chinese partners. They recognized that the anti-China racism that has spiked of late was not true of the majority of foreigners.
"I think people who are racist will always find ways to humiliate people they don't like, the virus just gives them more excuses," said Hope. "I'm not very sensitive, more because I always meet people who really like China and Chinese culture. So I know that most people are not like that," she added.