Lights, camera, cooperation: China-Thailand Film Festival held in Bangkok
The 14th China-Thailand Film Festival concluded in Bangkok on Sunday, as part of activities celebrating China-Thailand cultural ties and the 70th anniversary of the founding of the People's Republic of China.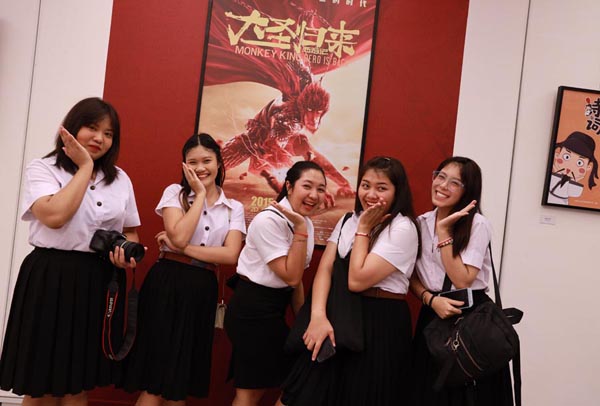 Thai students attend the opening of the 14th China-Thailand Film Festival in Bangkok on Aug 24, 2019. (Photo: Chinaculture.org)
The nine-day festival featured both Chinese and Thai films, as well as Chinese TV series such as The Wandering Earth, Running to the Spring, Inhuman Kiss and Bikeman. They were screened side-by-side at several venues across the city.
The event aimed to highlight China's flourishing film industry and offer insights into Chinese culture through the medium of film.
Attending the event's opening at the China Cultural Center in Bangkok on Aug 24, Thai Minister of Culture Itthiphol Kunplome said hosting a film festival is one of the most important drivers for mutual cultural understanding.
During his remarks, Chinese Ambassador in Thailand Lyu Jian said the 70 years after the founding of New China also witnessed seven decades of development for the country's film industry.
"As the world's second-largest film market and a major film producer, Chinese films have participated in global exchanges with unprecedented vitality," Lyu said. "I hope the China-Thailand film and television exchanges and cooperation will go deeper and deeper through this film festival."
The event was co-sponsored by the Chinese Embassy in Bangkok and the Thai Ministry of Culture.