Denmark's Queen Margrethe II unveils statue of Bernhard Arp Sindberg in Aarhus
People's Daily app
1567394510000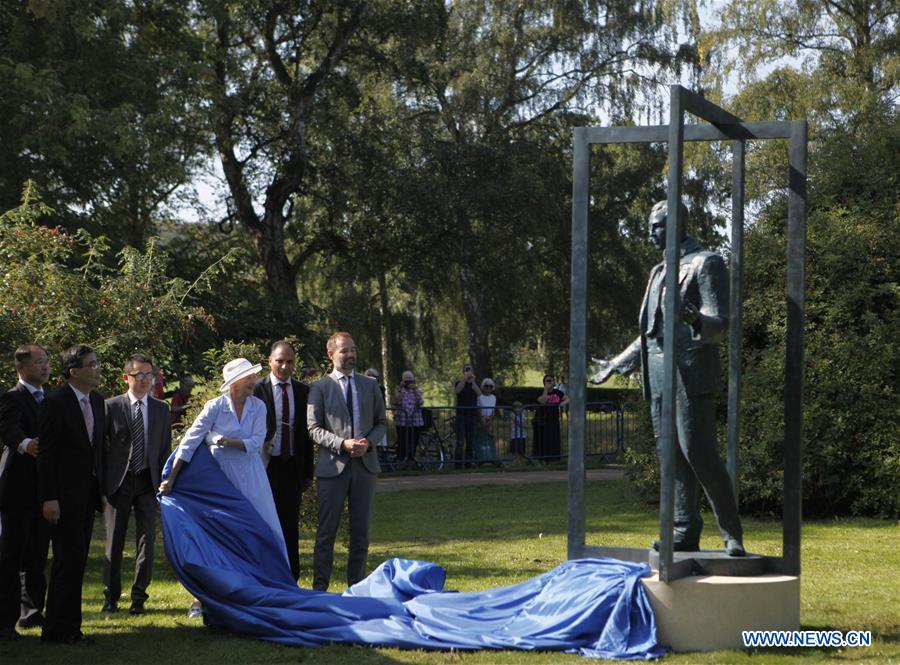 Denmark's Queen Margrethe II unveils the statue of Bernhard Arp Sindberg, a Dane who helped save over 20,000 Chinese during the Nanjing Massacre, Marselisborg Memorial Park in Aarhus, Denmark, on August 31, 2019. (Photo: Xinhua)
The Bernhard Arp Sindberg statue, a gift from east China's Nanjing City, was officially unveiled by Denmark's Queen Margrethe II at Marselisborg Memorial Park in Aarhus, Denmark, on Saturday.
Sindberg provided shelter and medical help to more than 2,000 refugees in China during the Nanjing Massacre from December 1937 to March 1938. During those dark days, Chinese people praised him for his "brave deeds" and called him "a friend of China". Sindberg's act gradually became a legend and widely spread throughout China and Denmark.
Queen Margrethe II said at the unveiling ceremony that Sindberg was a hero who risked his life to help Chinese refugees during the Nanjing Massacre. She stressed that Sindberg's kindness is not only meaningful to Nanjing City, but also to the whole world. She also presented her thanks to the Nanjing municipal government and people for sending the Sindberg statue to the Aarhus Marselisborg Memorial Park. She believes visitors should remember the history and reflect on the war as a tribute to Sindberg.
This statue was co-designed by Chinese artists Shang Rong and Fu Licheng, from the Institute of Sculpture Art at Nanjing University, and Danish artist Lene Desmentik.
On the same day, exhibition "Bernhard Sindberg - Danish Hero of Nanjing" kicked off in both the Dokk1 library in Aarhus and the Memorial Hall of the Victims in the Nanjing Massacre in east China's Nanjing City.
(Compiled by Yu Lidong)