Archaeological excavation of Nanhai No. 1 to finish in 2021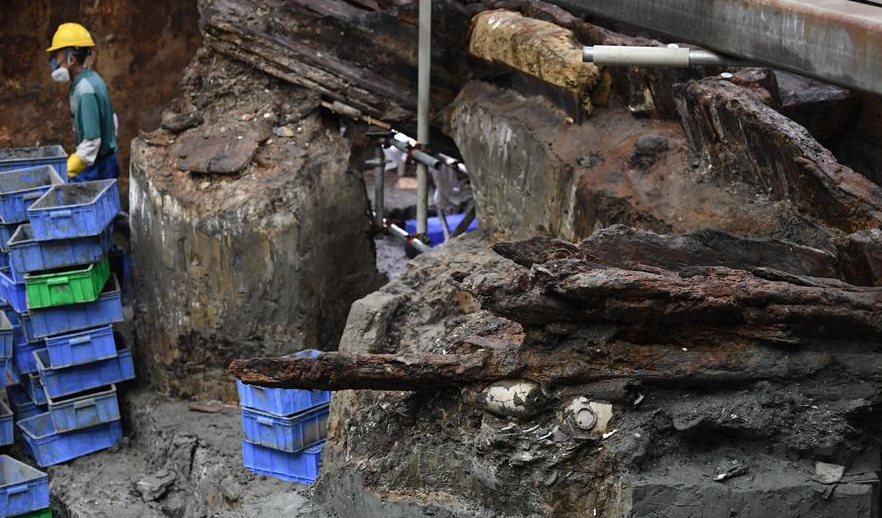 (Photo: Xinhua)
GUANGZHOU, May 17 (Xinhua) -- The archaeological excavation of Nanhai (South China Sea) No. 1, a cargo ship from the Song Dynasty (960-1279) salvaged in the South China Sea in 2007, is expected to be finished in 2021, said the archaeological team.
In early May, Nanhai No. 1 was selected as one of China's top 10 archaeological discoveries of 2019.
At present, the archaeological excavations are entering the final stage, having turned to the removal of cultural relics and silt outside the ship's body.
Due to more than 800 years of seawater erosion and the corrosion and pollution of a large amount of iron condensate, the hull components of the ancient ship are relatively fragile.
"The body of Nanhai No. 1 is the most valuable of all cultural relics and the most difficult to protect. It is like a terminally ill old man," said Li Naisheng, vice director of the institute for conservation and restoration of cultural relics, Chinese Academy of Cultural Heritage. "It is extremely challenging to protect, but it is worth doing."
Found in 1987 and salvaged in the South China Sea in 2007, Nanhai No. 1 is now preserved at the Maritime Silk Road Museum on Hailing Island of Yangjiang City, south China's Guangdong Province.
Porcelain products, gold, silver, copper and iron relics and copper coins are some of the 180,000 diverse treasures found within the Nanhai No. 1 vessel. Bamboo and wooden lacquers and preserved remains of plants and animals have also been recovered from the ship.
The remains of the ship body measure 22.1 meters long and 9.35 meters wide. Archaeologists believe it is one of the largest and best-preserved Song Dynasty ocean-going merchant trade ships ever discovered.