Sun Yang wins China's first swimming gold at FINA World Championships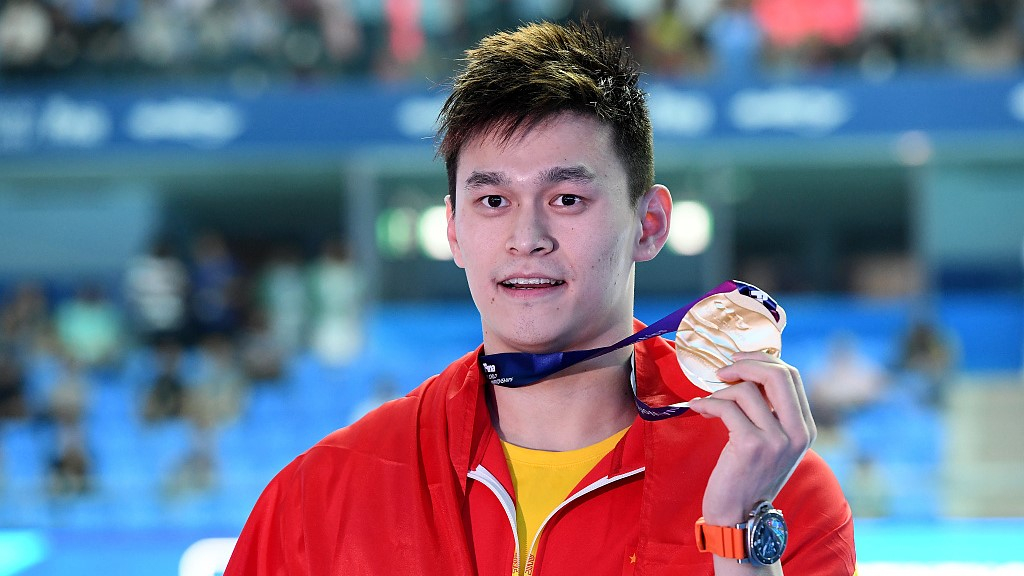 China's Sun Yang claimed gold in the men's 400-meter freestyle at the FINA World Championships in Gwangju, South Korea, with a time of 3:42.44. (Photo: CGTN)
The gold medal is China's first in a swimming event at the meet.
This is Sun's fourth straight title in this event and his 10th at the World Championships, which matched Ryan Lochte to rank No. 2 in history, only behind Michael Phelps who won 15 golds.
Sun also became the third male swimmer who won four consecutive golds in one event at the World Championships, joining Australian Grant Hackett (1,500-meter freestyle) and Lochte (200-meter medley).
Australia's Mack Horton took the silver medal at 3:43:17 and Italy's Gabriele Detti got the bronze at 3:43:23. Sun's compatriot Ji Xinjie finished seventh at 3:45:64.
"Becoming the first one to get four men's 400-meter freestyle golds in a row (at the World Championships) in the history of the event is recognition of my training. We all started at the same time but I stuck it out," said Sun.
Sun was in Lane 4, but he did not rush to get the lead in the beginning. Instead, he maintained a rhythm of his own and sped up step by step. After the first two laps, Sun moved up to No. 3 while Australia's Jack McLoughlin was in the lead. In the following two laps, Sun took the lead and kept it till the end.
"My goal in Gwangju this time is to go for golds. I have already won every honor I could in my career and now all I want to do to is to expand my gold list. I want to fight for honor and for my team. My victory is the best return for my team because everybody has contributed to it," said Sun.
Horton refused to stand on the winners' podium. When asked about this at the press conference after the final, Sun called it the old little trick of the Australian swimmer who only tried to use it to affect Sun's performance.
"I got one thing to say. You can have a problem with me, but I believe the awarding of a prize is a noble moment because every athlete represents his country. No matter how much you dislike it, you must stand on the rostrum. You don't have to respect me but you must respect China."