TCM applied in over half of confirmed patients in Hubei: official
Global Times
1581886421000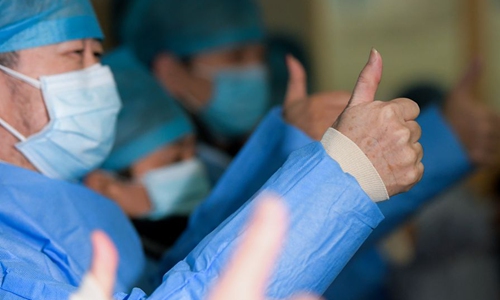 (Photo: Global Times)
Traditional Chinese medicine (TCM) has been applied in treating more than half of the confirmed patients of novel coronavirus (COVID-19) infection in China's Hubei Province, center of the epidemic, a senior official with the National Health Commission said Saturday.

"Since the beginning of the outbreak, the government has attached importance to both TCM and Western medicine by mobilizing the strongest scientific research and medical forces in both fields to treat the patients," said Wang Hesheng, deputy head of the commission, at a press conference, noting that the combination of TCM and Western medicine in treatment is an important feature of the fight against the epidemic.

TCM universities and hospitals across the country have sent 2,220 medical workers to Hubei to help combat the epidemic, according to Wang, also a member of the standing committee of the Hubei provincial Party committee.

TCM has also been used in the prevention and control of COVID-19 at the community level, he added.

"By coordinating the resources of traditional Chinese and Western medicine, we strive to improve the cure rate and reduce fatalities by the greatest possible amount to effectively safeguard the safety and health of the people," Wang noted.