CBA fines French player for not raising his head during national anthem
Global Times
1575832521000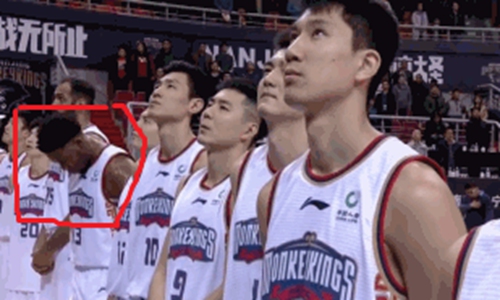 French basketball player Guerschon Yabusele (left) fined 10,000 yuan ($1,422) by China Basketball Association (CBA league) after he failed to look at China's national flag during the pre-game playing of China's national Anthem. (Photo: GT)
The China Basketball Association (CBA) announced on Saturday that French player Guerschon Yabusele of the Nanjing Tongxi has been given a warning and fined 10,000 yuan ($1,422) after the former Celtics player failed to raise his head to look at China's national flag during the national anthem before a Friday game.

Chinese internet users noticed during the broadcast that Guerschon Yabusele of the Nanjing Tongxi lowered his head while his teammates, including another foreign player, looked solemnly at China's national flag during the national anthem.

Some expressed offense at the player's behavior, claiming it lacked respect and was rude.Others attributed his action to cultural differences, saying some countries' convention was to bow one's head during the national anthem as do many players in the NBA.

"Couldn't he notice all his teammates were looking at the flag?" posted one internet user on China's Twitter-like Sina Weibo.

"You have to obey and adapt to the rules and traditions in China, but I wouldn't doubt the club failed to tell the player the proper protocol," posted another.

The league was seeking to impose game-time punishment for unsportsmanlike behavior and technical fouls as well as go against players who fail to fulfill their duties during pre-game ceremonies.

Neither Nanjing Tongxi nor Yabusele have made public statements as of press time and it is unknown if the team will impose additional punishment on the player.

Yabusele's case was not the first. MarShon Brooks, a US basketball player at Guangdong Southern Tigers received the same punishment for the same reason in April.

Zhejiang Lions' Aaron Jackson was also warned and fined 10,000 yuan in March this year when the US player warmed up during the national anthem.