Shanghai children show off their inventions at local contest
Local schoolchildren are turning to science to solve problems for their families and make a better city as the 34th Shanghai Adolescents Science and Technology Innovation Contest kicked off on Saturday.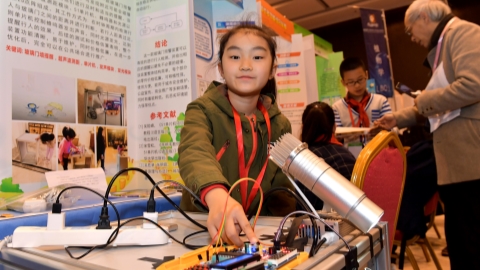 Photos: Shine.cn
More than 830 budding scientists, from primary school students to high school students, gathered at the Shanghai Science Hall to showcase their inventions to the experts.
Shan Jiatong, 17, from the No.2 High School of East China Normal University, designed a walking-aid for patients with Parkinson's disease. It's attached to the belt and can emit laser beams, vibrate and make sounds to help the user walk in the right direction.
"I got inspiration from my grandmother who was plagued with Parkinson's disease ... I decided to design something that could help her," she told Shanghai Daily. "But unfortunately, before I started it, she died."
It might be one of the biggest regrets in her life, but it gave her some comfort that patients are very likely to use her invention.
"I've tried it on 10 patients with severe symptoms, and I've received good feedback," she said. "I've registered a patent, and next I will seek to promote it to the market."
Xu Yiyao, a four-grader from the Jiangsu Road No.5 Primary school, said her grandmother, in her 70s, had severe knee problems.
"My grandmother used to live on the fourth floor of an old building without elevator, so she moved to a new building with an elevator," she said.
It inspired her to design an aid to help the elderly climb and descend stairs without bending their knees.
Some students focused their attention of broader issues.
Tang Jialing and two of her schoolmates from Shanghai Datong High School developed something to help recycle and reuse waste. It took them half of year to turn waste plastic into useful fiber.
"We collected some empty plastic cups made from polypropylene, or PP. We cut the cups into small pieces and heat them up in the marshmallow making machine where they turn into white fibers," Tang said.
Shanghai Daily found that the PP fibers look very similar to marshmallow, and they are soft to the touch.
Based on lab results, one kilogram of the plastic can be turned into 0.85 kilograms of fiber, which shows promise for insulation and noise reduction.
"The city is now promoting waste sorting. And what do we do after that? We hope to learn more about characteristics of different waste, and make them useful," Tang said. "We hope that our PP fibers can be used to make construction materials."
Fang Xinyue, a 7th grader from Shanghai Yan'an Middle School, hopes to reduce the use of styrofoam during express delivery.
"Logistics companies usually pack our goods in styrofoam to ensure safety, but it causes a great amount of waste," she said. "So, I designed a robot, with special wheels, that can drive so gently."
Cover image: Fang Xinyue shows off her robot