China, academy stay high on list of research yield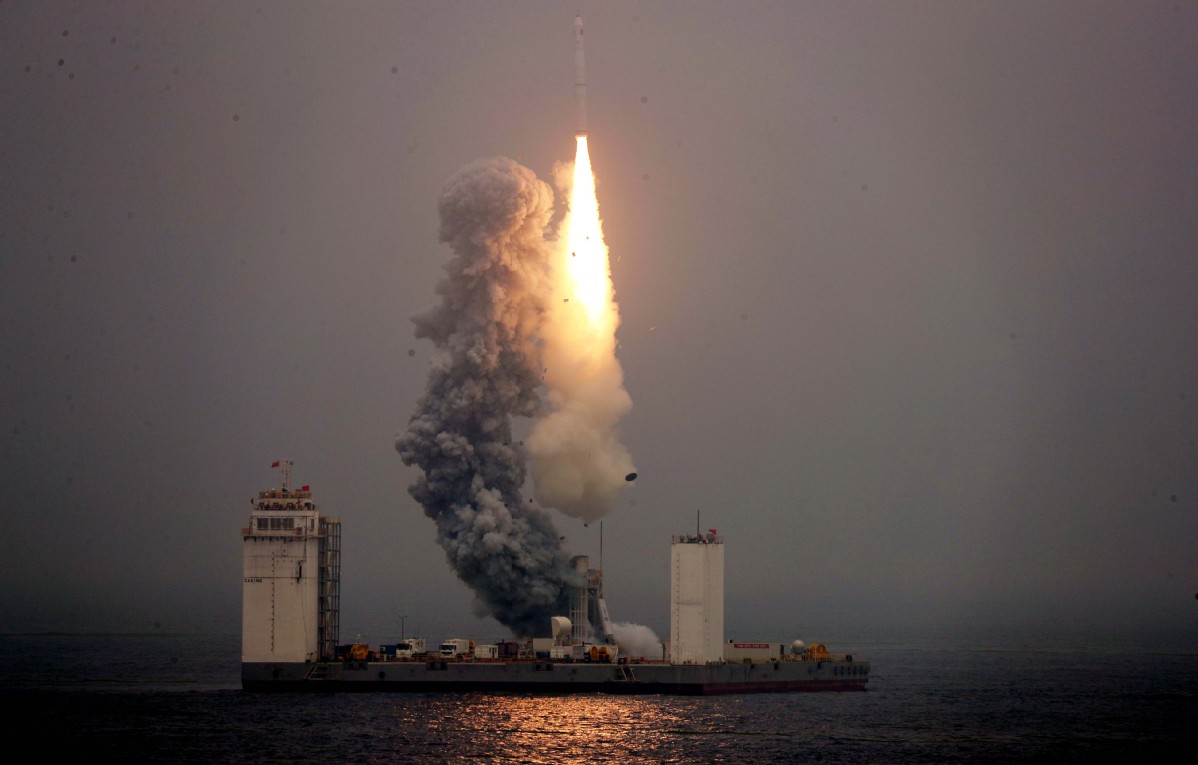 A Long March 11 solid-propellant carrier rocket, with a payload of seven satellites, blasts off from a mobile launch platform off Shandong province on June 5, 2019. (Photo: China Daily)
Quality-focused index shows country's gap to US, though still huge, is narrowing
The Chinese Academy of Sciences remains the world's top academic institution, and China held onto the second spot for the quality of research output in the latest Nature Index tables, which have been published annually since 2014.
The tables - released on Thursday and compiled by one of the world's leading research publishers, Springer Nature - are influential in the evaluation of high-quality research output, and are based on the percentage of authors from the country or institution and the number of affiliated institutions per scientific article.
The data also show that China has 17 institutions ranking among the top 100 in the world, including Peking University, Tsinghua University, Nanjing University and the University of Science and Technology of China, an increase from 15 in 2018.
The US remains the world's largest research power, well ahead of China and third-ranked Germany, according to the report. The US also has 43 institutions in the top 100.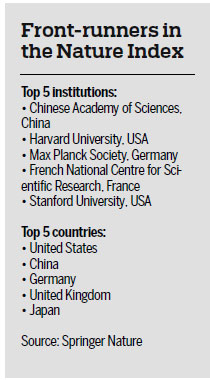 However, China and Australia were the only two countries in the top 10 that have seen a positive growth in research output, with China rising by 17 percent compared with 2018.
The data also suggest that chemistry, physical sciences, life sciences, and earth and environmental sciences are China's strongest disciplines.
"By looking at these data, we can see that China's overall scientific strength still lags behind the US, but the trends show very clearly that China is progressing the fastest among all the major science powers," said Yuan Lanfeng, an associate professor at USTC.
Springer Nature said in December that China's share of global scientific output, as measured by the index, rose from 9 to 16 percent.
Chinese researchers are also involved in more international collaboration, and Springer Nature said that just under half of China's research articles in the Nature Index came from international cooperation in 2015 to 2017.
Yuan said one of the most fundamental reasons for China's continued growth in technological strength is the sharp increase in its research and development budget.
According to data from the Organisation for Economic Cooperation and Development, China's gross domestic spending on R&D in 1991 was $13.4 billion. That number rose to $442.7 billion in 2017.
"Whether a country or a company, the core competitiveness lies in technology, especially the technologies that others don't get a hold of, and the fundamental way to acquire these leading technologies is by breakthroughs in basic scientific theories," Yuan said.
"These statistics also show that China's scientific progress is real. It is made by real hard work," he said.
"Of course, we should thank the international community for its assistance, and we welcome international cooperation with different countries, but the main driver of China's scientific and technological progress can only come from the efforts of our scientists," he added.