Big data to reshape economic landscape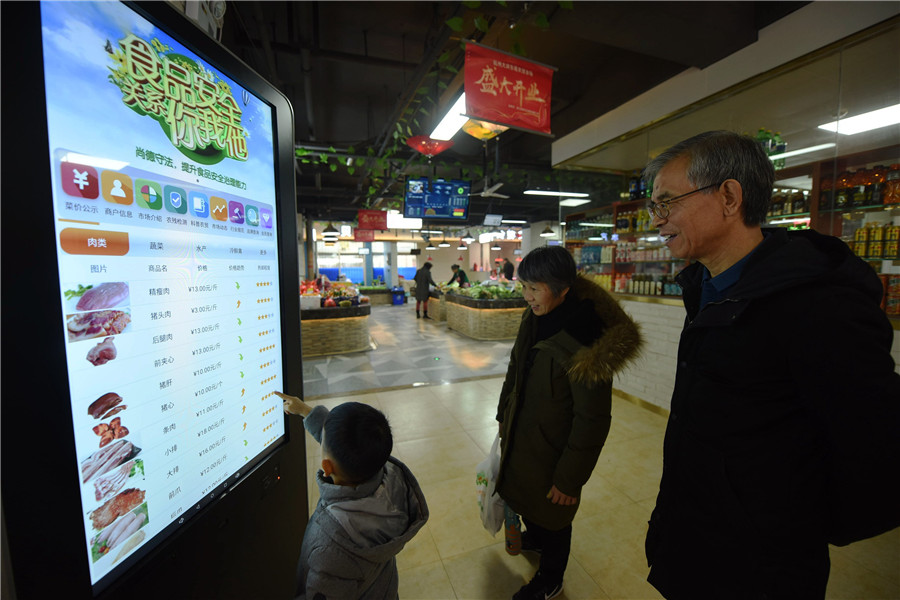 Customers check prices of food products on a touch screen at a supermarket in Hangzhou, Zhejiang province. (Photo: China Daily)
Core industries in China's big data sector could earn more than 720 billion yuan ($106.3 billion) this year, said a report on the sector's outlook from think tank CCID.
China's big data sector will witness 25 to 30 percent growth in 2019, facilitating the transformation and upgrading of regional economic structures, the report said.
Apart from East China where the sector is flourishing, Southwest China's Sichuan and Guizhou provinces and Chongqing municipality are expected to be front-runners for new growth, according to the report.
As part of the development of the digital economy, China is accelerating the integration of big data and the real economy, said Wei Kai, a researcher with the China Academy of Information and Communication Technology.
Wei said the development of big data in China is still unbalanced, such as unbalanced business types and uneven geographical distribution.
To maximize the use of big data, the country should make efforts to establish all-in-one big data platforms and effective mechanisms for data management, Wei added.
Officials in Guizhou province said they will boost the output value of big data, electronic information and other industries to over 100 billion yuan this year, as well as accelerate the development of intelligent terminal manufacturing and supporting facilities.
It will also focus on the development of electronic components and materials, and foster the development of integrated circuits and new display industries.
Since 2015, China International Big Data Industry Expo has been held for four times in Guiyang, capital city of Guizhou province. Last year, the expo attracted over 40,000 participants from nearly 30 countries.
As China's first big data pilot zone, the mountainous province of Guizhou has attracted heavyweight firms, including Apple, Qualcomm, Huawei, Tencent, Alibaba and Foxconn, to establish cloud computing and big data centers as well as regional headquarters.
In addition, Hunan has formulated six measures to boost the big data industry, such as cultivating enterprises engaged in big data industry, as well as promoting research and development and innovative applications of big data technologies and products.
The sales revenue of big data industry in Hunan is expected to surpass 100 billion yuan by 2021, with a compound annual growth rate of over 30 percent in the next three years, according to the local authority.
A booming digital economy is reshaping China's economic landscape as technology such as artificial intelligence, big data and cloud computing revives traditional industries and casts new light on high-quality development.
China's big data sector aims to increase its annual sales to 1 trillion yuan by 2020 from an estimated 280 billion yuan in 2015, said a plan released by the Ministry of Industry and Information Technology.