Artificially-bred Yangtze finless porpoise turns one
F7c, the third artificially-bred Yangtze finless porpoise, celebrated its first birthday on Sunday, at a research institute of hydrobiology in central China's Wuhan City.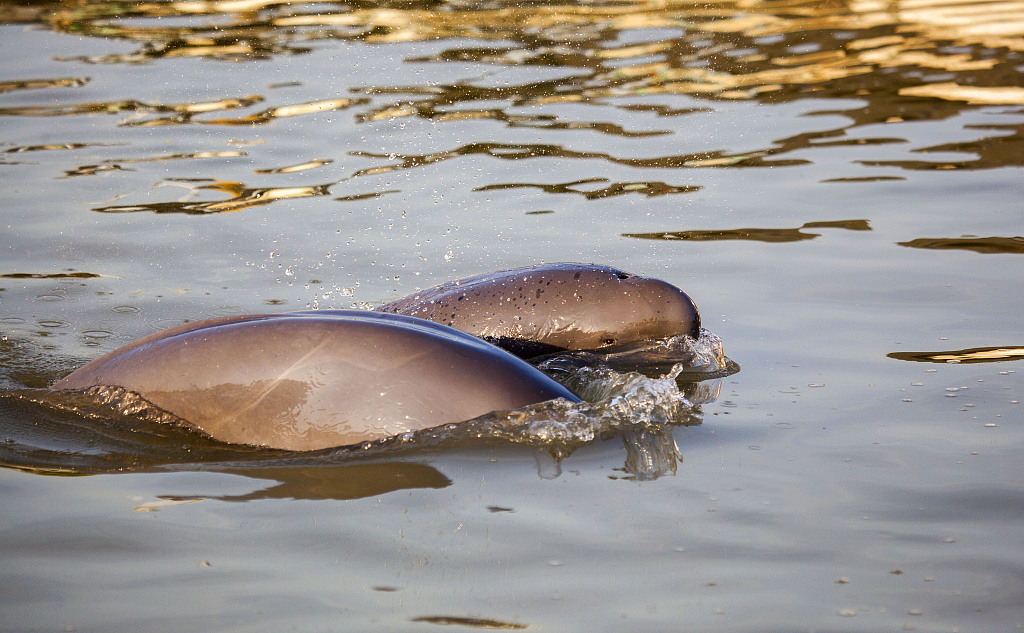 Two wild Yangtze finless porpoises spotted in Jiujiang City. (Photo: VCG)
The porpoise's birthday marks a big scientific breakthrough in the protection of the species.
The Yangtze finless porpoise is a freshwater porpoise native to China. It is the only mammal species living in the longest river in Asia, the Yangtze River. The population of the Yangtze finless porpoise living in the wild is only around 1,000 – fewer than that of giant pandas.
The Yangtze River used to be home to the Yangtze finless porpoise and the Yangtze River dolphin. However, numbers of both species are dramatically declining due to human activities. The Yangtze River dolphin is thought to be the first dolphin species declared functionally extinct due to the impact of humans.
"Actually, the sonar system of Yangtze finless porpoise is quite immature before they are three months old. So it is a big challenge for them to survive once they stray away from their mother. During this period, we need to keep off the disturbance from various factors like shipping," said Wang Ding, a researcher with the Institute of Hydrobiology of the Chinese Academy of Sciences.
Under the care of its mother and the working staff, the little finless porpoise is growing stronger and healthier. Now, it not only has a good appetite but is also becoming more active.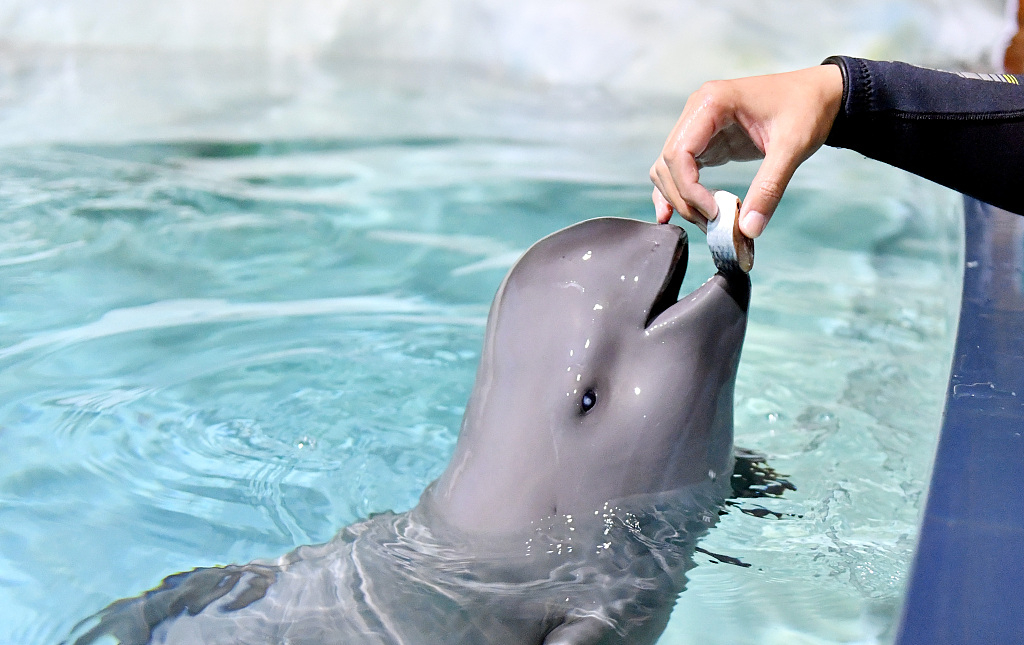 A Yangtze finless porpoise gets fish from staff. (Photo: VCG)
"We collect names through the website of the Baiji Dolphin Conservation Foundation, in an attempt to promote public awareness about protecting the Yangtze finless porpoise and even the Yangtze River as a whole. The result will be announced on the International Freshwater Dolphin Day, which is on October 24 this year," he said.
The other two artificially-bred Yangtze finless porpoises, Tao Tao and Bei Bei, were born in 2005 and 2018, respectively.