AI, drone technology transform China's agri-business, launching it into the future of modern farming
Global Times
1560795401000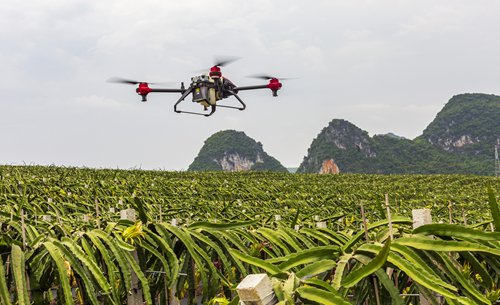 XAG's agricultural drone sprays pesticide on dragon fruit plants in June 2018 in Nanning, South China's Guangxi Zhuang Autonomous Region. (Photo: Global Times)
The Chinese farmers' traditional working scene, which usually featured a sweaty vest and chapped hands is gradually being converted by the country's technological advancements in relation to artificial intelligence (AI), cloud computing and a series of improvements in infrastructure.

The first touch of agricultural drones happened in 2015 with Li Zhiming, a cotton farmer based in Yuli county, Northwest China's Xinjiang Uyghur Autonomous Region, China's largest cotton-growing area. At that time, some farmers around him had already applied the technology on their own plantations to spray pesticide in the air.

An agricultural drone is an unmanned aerial vehicle used for farming purposes in order to help increase crop production and monitor crop growth.

Li, being curious about the use of drones in agriculture, chose to give it a try by using a drone on his 4,900 mu (326.67 hectares) cotton farm, after which, he no longer had to endure tedious farm work.

"Drones have brought us greater efficiency and higher revenues," Li told the Global Times over the weekend.

"I used to rely on tractors to do the pesticide spraying, which took a lot of time. In addition, tractors did damage the cotton plants during the spraying process," said Li. In particular, the use of drones to spray a kind of drug that can control the height of cotton plant has proven to be more efficient than the use of tractors in doing the work, he added.

No tractors mean no damage to the cotton growth, which guarantees greater yields, Li said.

Besides, the volume of work that used to be undertaken by two tractors in seven days can now be completed by four drones in only two days, Li noted.

Being one of the Chinese farmers that have ridden the wave of intelligent agriculture, Li is grateful for the benefits brought about by the technological advancements in the country.

He bought himself four drones just a month ago with each drone priced at about 70,000 yuan ($10,110). Previously, he paid for flying services provided by the domestic agricultural drone maker XAG based in Guangzhou, capital of South China's Guangdong Province. He used to pay 8 yuan for each mu of land and spraying the whole area cost him about 280,000 yuan for seven instances of spraying during the cotton growing period.

"Now we can use own drones to save costs and we can also help neighboring farmers in spraying to earn some money," said Li.

About half of the cotton farmland in Xinjiang has been taken over by XAG's agricultural drones, the company's representative told the Global Times.

Going a step further, Li has already adopted XAG's digital scarecrow on his farm, which is used to monitor and produce data for further targeted services.

AI born from the land

"AI is making headlines nowadays and we're bringing the technology to the field not for the sake of chasing the trend. We have indeed accumulated related data from the land and the crops," said Justin Gong, co-founder and vice president of XAG.

Gong likened the data to "fruit" grown in the field, based on which, the agri-tech company can conduct an analysis at the data center located in Hangzhou, capital of East China's Zhejiang Province.

For example, if farmers in South China's Hainan Province want to know for how long their dragon fruit requires sunshine and when it is ready to be put on the market, all of this information can be determined via the collected data, or AI to help farmers make wiser decisions, Gong told the Global Times on Friday.

The company has obtained data on more than 60 million mu of land in the country.

"AI in the agricultural sector is a natural follow-up after related technologies like drones and the internet of things were introduced," said Gong.

Founded in 2007, but turning its eye on the agricultural sector in 2014, the company has 30,000 drones so far working in fields across the crop dusting.

Although the current operational area that has been covered by drones makes up only five percent of all the farmland in the country, Gong is confident that more drones will be used to help Chinese farmers become more professional in the modern agricultural industry.

Compared with traditional spraying heads, the ones used on drones are upgraded technologically so that one drop of pesticide can be divided into smaller drops and sprayed on more farmland, Gong explained.

The Qianzhan Industry Research Institute forecast that the value of the domestic agricultural drone market will reach more than 12.8 billion yuan by 2021, with an annual compound growth rate of 38 percent.

According to the No.1 central document, the first policy statement released by central authorities earlier this year, and seen as an indicator of policy priorities, China has vowed to step up its breakthroughs in key agricultural core technologies and promote independent innovation in areas such as smart agriculture and green agricultural inputs.

Faced with a huge growth potential, domestic tech giants are striving to make larger footprints in this sector.

Shenzhen-based DJI, the world's largest commercial drone manufacturer by market share, is also not missing out on opportunities in the agricultural drone sector.

It launched its latest agricultural drone, the T16, at the end of last year, which features dynamic systems to enhance efficiency and accuracy. In April the drone carried out a fully automated pesticide spraying of an orchard, without a human piloting it, based on a three-dimensional model and AI routes.

"This is the world's first AI application being shown by these agricultural drones," said Xie Tiandi, DJI's director of communications.

"However, we have to say that a real application scenario is still very far in the future and the market is still being educated, so a great leap forward should not be expected any time soon," Xie told the Global Times on Thursday.

In 2015, DJI launched its first agricultural drone, the MG-1, marking its diversification into the industry's drone market.

DJI has estimated that about one-third of the country's farmland could ultimately be serviced by drones.

In addition, China's internet giants are also betting on smart agriculture increasing the efficiency and the income for those of China's farmers that are trained to make better use of big data.

"In the past, farmers took care of their own individual farms and decided what to plant on their own, but now they can use the results of the collected data and produce exactly the kind of rice suitable for targeted consumers," said Zhang Xinguang, senior operation advisor at Agriculture Development Department, Alibaba Alicountryside Business Unit.

Alibaba launched the ET Agricultural Brain last year, which is backed up by its cloud computing arm Alibaba Cloud, in a move to transform China's farming industry via its AI-backed technology, through which production details can be digitally recorded.

The project aims at helping farmers potentially achieve an income of $1,000 for rice per acre of land.

In Hinggan League, North China's Inner Mongolia Autonomous Region, Alibaba is reinforcing its role as a platform to help sell local rice to the current technology experts on the whole planting process.

"Sensors embedded on the farmd can help them detect whether or not the soil needs water and if the temperature is good for growth," Zhang told the Global Times on Friday.

"Automatic irrigation will soon be realized when the sensor collected data shows what land lacks water," he noted.

Local farmers' income has surged by 40-50 percent because of targeted rice planting, yields and sales throughout Alibaba's ecosystem, according to Zhang.

Cooperation trending

Collected data shows that China has a mere 7 percent of the word's arable land yet it needs to feed 22 percent of the world's population, the fact of which calls for more efficient plantations with higher crop yields.

Intelligent agriculture has met with some difficulties due to the small-scale peasant economy, the major farming economy in China, since it poses an obstacle for intensive production.

"Intensive production and management are the trend for future smart farming, based on which, digital technology can better play its role," said Zhang.

In this sense, both hardware and software firms, as well as local government, should work together to promote the process, he suggested.

As far as Gong is concerned, China's typical small-scale farm is more flexible in terms of adjusting crop planting according to the demand end as the country's consumption needs begin to accelerate.

In comparison, the US' large farms find it difficult to make quick changes if they want to plant a different crop since all related facilities are tailored for that set crop, said Gong.

Gong emphasized that international cooperation should be strengthened in the digital agricultural sector.

XAG, Alibaba Rural Taobao and German multinational Bayer initiated the Sustainable Farming Program last year, in which the latest technologies are developed to build an intelligent agriculture management system with a transparent, traceable food value chain.

"The ongoing China-US trade war has not impacted on our technological cooperation with US firms. On the contrary, we find it more significant to seek joint efforts during this period, and our US counterparts think the same way," said Gong.

"It is acknowledged that the US has leading technology in the digital agricultural sector, but when its firms want to make a foray in the Chinese market, they find some of their advantages cannot be applied to Chinese farmlands, so they badly need a local partner," he explained.