Scientists produce images of most distant known blazar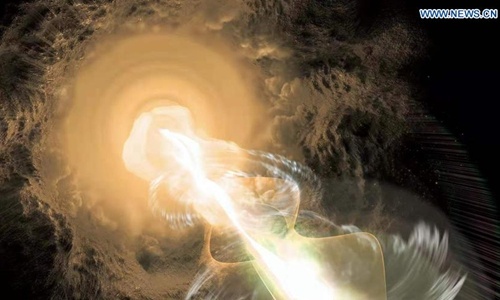 A team led by Chinese astronomers has produced high-resolution images of the most distant known blazar, which they say could help study the evolvement of galaxies born in the early universe, said an article published this week by Nature Communications.

The team used the Very Long Baseline Array, a system of 10 radio telescopes located in the United States, to conduct high-resolution radio observations of the luminous blazar J0906+6930. At a redshift of 5.47, the blazar emitted its radiation nearly 13 billion years ago.
"The object is one of the most distant ones known to date in the class of active galactic nucleus," said An Tao, the team leader and a researcher at the Shanghai Astronomical Observatory.
The researchers studied the blazar over a 14-year period to produce a series of multi-epoch images. In doing so they detected polarized emission for the first time and measured the motion of the jet knot in the blazar, said An.
"A continued monitoring, as well as high-sensitivity observations with the next-generation telescopes, will enable astronomers to detect fainter high-redshift blazars with richer details," he said.
Top photo: Picture shows a high-resolution image of the most distant known blazar, produced by a team led by Chinese astronomers. A team led by Chinese astronomers has produced high-resolution images of the most distant known blazar, which they say could help study the evolvement of galaxies born in the early universe, said an article published this week by Nature Communications. "The object is one of the most distant ones known to date in the class of active galactic nucleus," said An Tao, the team leader and a researcher at the Shanghai Astronomical Observatory. (Photo: Xinhua)