Making great strides: China's 5G technologies flourish
People's Daily app
1559785866000
When it comes to 5G, most people think that it is just a faster network than 4G, but many people do not know how fast the 5G network really is. What benefits will 5G bring to us? What role does China play in 5G research and development process?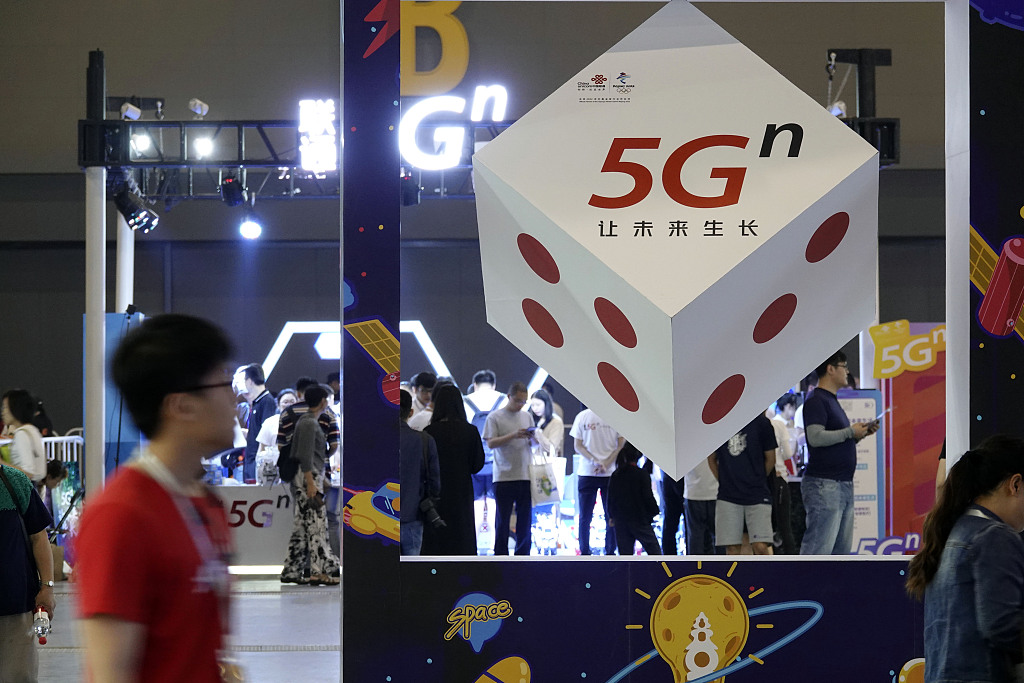 (File photo: VCG)
How does 5G influence our lives?
The development of 5G has been on the fast track since the beginning of this year. Various new ways of 5G application and new businesses have sprung up.
Application of the 5G network in the field of communication will bring more possibilities to people's lives. It only takes a few seconds to download a 1GB movie by using a 5G network.
The download speeds of the 5G network will be greatly improved compared to the 4G network. For example, the wireless access rate can reach about 1GB per second after the 5G network is officially commercialized.
The first domestic telecommunications business hall with 5G network has been officially opened in Beijing. The total investment of 5G networks of major telecommunications operators in Beijing will exceed 30 billion yuan by 2022. The 5G network will cover the core functional zones, the sub-center, important functional zones and important places in Beijing.
Zhang Jianming, deputy director of Shanghai Municipal Commission of Economy and Informatization, said that over 10,000 5G base stations will be built in Shanghai this year.
As the first batch of 5G network pilot cities in China, Guangzhou and Shenzhen, two cities in south China's Guangdong Province, are also accelerating the construction of 5G base stations. Guangdong plans to construct 10,000 5G base stations in Guangzhou and Shenzhen within the year and strives to achieve trial commercialization of 5G networks this year.
The 5G network will also be used promisingly in the fields of autonomous driving, industrial production and public transportation.
China started its first 5G expressway project in Hubei Province in February 2019. Through this project, we can know the full transportation situation on the expressway accurately in real-time. Meanwhile, the project of smart high-speed unmanned driving with 5G network also entered the stage of applying for testing.
The application of high-speed networks can greatly reduce costs and improve efficiency in the industrial field.
The advantages of high reliability and short delay of the 5G network can make distance education and telemedicine a reality and promote the sharing of quality education and medical resources. China's first remote lung surgery using a 5G network was completed in east China's Jiangsu Province in May 2019.
What role does China play in the 5G industry?
China's 5G industry has a competitive edge by combining independent innovation and open cooperation, the country's Ministry of Industry and Information Technology (MIIT) said on Monday.
For example, Chinese mobile phone brands such as Huawei and ZTE are gaining bigger and bigger shares in the world's mobile phone market. China's three biggest telecommunications operators, China Mobile, China Unicom and China Telecom, are also growing quickly.
Standards for 5G were jointly established by China and global industry players. China now owns more than 30 percent of the standard essential patents for the technology, according to the MIIT.
In terms of industrial development, China took the lead in launching 5G technology research and development experiments, which accelerated the development and industrialization of 5G equipment.
China has also received support and assistance from related companies around the world with 5G research and development. Foreign enterprises including Nokia, Ericsson, Qualcomm and Intel have been deeply involved in the experimenting with the technologies.
China's issue of 5G commercial-use licenses and open attitude towards cooperation not only shows that the 5G industry is a globally connected industrial ecosystem of global collective intelligence, but also shows the promotion of the healthy development of the global mobile communications industry.