AI companies' race for talent goes into schools
Global Times
1557426966000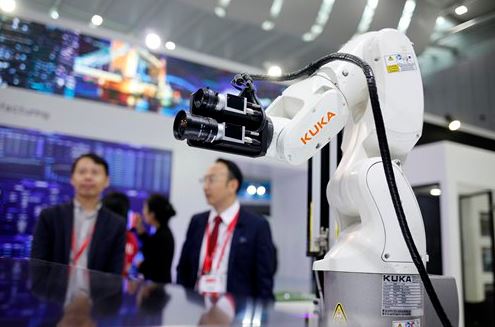 The 4th China International Internet Plus Exposition is held in Foshan, South China's Guangdong Province in November 2018. (Photo: IC)
China's artificial intelligence (AI) companies' competition for qualified employees has spread to colleges and even middle schools as the fast-growing sector faces a talent gap of more than 1 million people.

SenseTime, an AI start-up, signed an agreement with Shanghai Luwan Senior High School Tuesday, announcing a joint plan to build AI labs, compile basic AI textbooks and promote educational transformation, read a press release the company sent to the Global Times Thursday.

SenseTime told the Global Times Thursday that it has carried out deep cooperation and academic exchange with many universities at home and abroad. The company has jointly established a graduate training center in Shenzhen, South China's Guangdong Province, with Tsinghua University's graduate school in the city.

SenseTime provides intern positions and one-on-one tutors for every graduate through the program.

Megvii Technology Inc, more commonly known for its facial recognition brand Face++, an AI company backed by Alibaba, is cooperating with Xi'an Jiaotong University. The university established an AI school in January, employing Megvii's chief scientist as the dean, according to media reports.

Megvii also has a close relationship with Tsinghua University, since the founder of the company graduated from there, Zhang Zijun, manager of the AI industry research center at Beijing-based CCID Consulting, told the Global Times on Thursday. "Cooperation with universities will help companies to find and train potential experts who could boost their growth," Zhang said.

According to the 2018 China ICT Talent Ecosystem Whitepaper issued by Huawei last August, China's AI talent gap was estimated at more than 1 million people by the end of 2018, and the number will reach 2.26 million by 2020. The domestic AI market will be worth 150 billion yuan ($22 billion) by 2020.

Emerging sectors like AI have higher technology, application, innovation and comprehensive requirements when it comes to talent, the report said. "AI industries need wizards who are deeply involved with the industry's development."

Megvii announced on Wednesday that it had completed D round funding of $750 million and will start hiring top-level AI talent with part of the funds, according to the paper.cn.

AI technician was officially recognized as a new job title in China in April along with other 12 careers, and many colleges have also established AI majors and related courses.

According to yicai.com, the salary level of AI talent with doctoral degree jumped to 800,000 yuan annually in 2018 from 500,000 yuan in 2017. The salaries of other experts in the field with lower-level degrees rose 10 to 20 percent last year.

Cooperation between companies and schools will keep the educational system on pace with the industry's development, Zhang said. "More and more such cooperation is expected to be seen in the future."