Key farm zone's modernization reaps rewards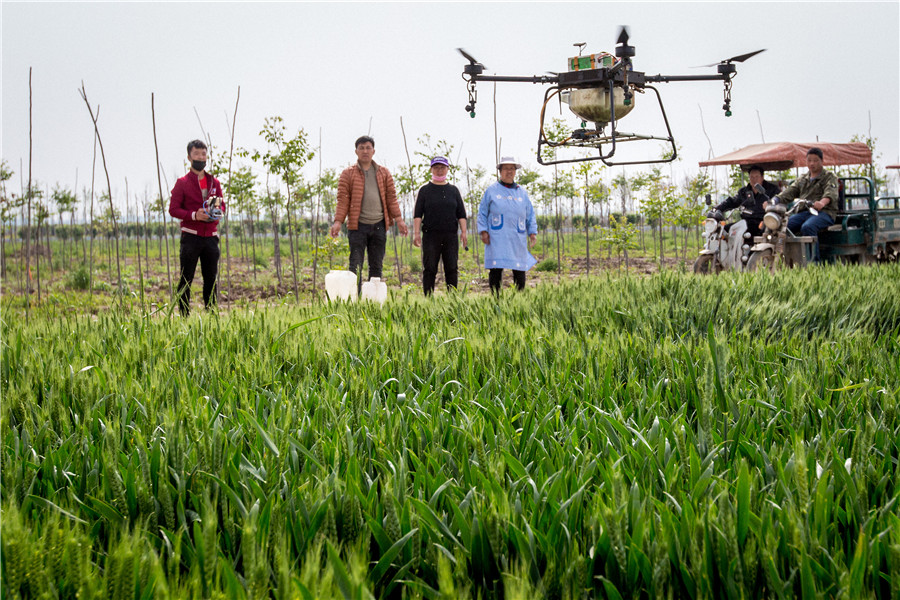 A drone sprays pesticide and fertilizer on a wheat field in Anyang, Henan province, in late April. (Photo: China Daily)
New machinery, practices boost crop yields as rural revitalization strategy takes hold
Zhou Haoyi walks up to an 800-meter-long, automated irrigation machine and pushes a button that sets the equipment in motion. The machine rolls through lush wheat fields in Xunxian county of Central China's Henan province, watering the crops.
"It is highly efficient, and operating it is really easy," said Zhou, 72, who has more than five decades of farming experience in Xunxian.
Zhou remembers traditional farming as a laborious, time-consuming process. One person could irrigate only 1.2 hectares a day the old-fashioned way, he said. But the new machine, requiring just one or two people to operate, can cover more than 600 hectares of wheat fields in four or five days, something that was "unimaginable in the past", Zhou said.
The irrigation machines and other new agricultural practices have helped increase harvest yields by at least 10 percent, he said.
The rewards being reaped by the farmers in Henan, one of the country's main grain-producing areas, are part of the country's supply-side reform to sustain growth.
More efforts are being made to implement the rural revitalization strategy aimed at modernizing agriculture.
At the second session of the 13th National People's Congress, the nation's top legislature, in March, President Xi Jinping told deputies from Henan there's much room for development of modern agriculture.
Xi called for more efforts to implement the rural revitalization strategy, with the chief goal being to modernize agriculture and rural areas.
"The top task for implementing the rural revitalization strategy is to ensure supply of important farm produce, grain in particular," he said.
Supply-side reform in the agricultural sector should be promoted to improve food security, Xi said.
Hu Zhenfang, chief of the planting section in the agricultural bureau of Xunxian, which is part of the city of Hebi, said the county has been listed as the first national modern agricultural demonstration zone of its kind since 2010.
Local authorities have focused on building the basic infrastructure needed in the sector and on leading farmers to take on modern management practices. The approach includes cooperatives that bring in local farmers, with many of them returning to cropland from cities to tap the opportunities offered by the model area and take a stake in its development.
Modern farming is still a new concept for many of the local residents who have gone back to till the land, Hu said. Many rural residents who previously headed to cities for jobs had left scattered and untapped tracts of farmland.
More of the farm enterprises or cooperatives subsequently adopted standardized practices that involved mechanized planting and other modern methods, he said.
Zhou Weiqi, manager of the Weiyi planting cooperative in Xunxian, said, "Land under the cooperatives enabled us to farm by the same standards under intensive management-the same method of cultivating crops, the same seeds ... thus allowing us to lower costs, make labor more efficient and boost productivity.
"More elderly people were also getting involved, including earning income by working for the cooperatives during peak farming seasons," Zhou said.
Du Huanyong, head of the Huanyong planting cooperative in Huaxian county of the city of Anyang, has been interested in new farm machinery such as irrigation equipment since he began working farmland in 2012. Du said he was proud of witnessing the modernization and mechanization of the agricultural sector.
"At the beginning, I had just two tractors. Now I have more than 80 machines working on farms, including self-propelled sprayers and drones," Du said.
Technology in agriculture has in recent years proved to be crucial, said Du, who has cultivated more than 130 hectares of crops.
"Growing wheat needs a lot of patience because it takes nearly nine or 10 months from sowing to harvesting. Recently, more technical and professional knowledge are being required of new farmers," Du said.
Li Yaolun, an agronomist in Huaxian, said farmers are more interested than before in using automated irrigation machinery and other new agricultural technologies.
Many growers and producers are also adopting techniques to improve food security, such as QR codes for tracking product dates and origins, Li said.
"Traceability and transparency are becoming central for consumer trust, with more people having a huge interest in where and how food is produced and growers building confidence in their products," Ronan Loftus, co-founder of Identi-Gen, a major provider of DNA-based solutions to the agri-food industry, said in Zhengzhou, the provincial capital.
Wheat production is also developing in the direction of "farm to plate", said Du, who is working to obtain certification, issued by the local agriculture bureau, of environmental sustainability.
"Henan is a major wheat producing province, and we are proud of being the main wheat suppliers here. But we also have the responsibility of ensuring food security," Du said.
Guo Tiancai, a professor at Henan Agricultural University who introduced the province's wheat production to President Xi during the leader's visit to the agriculture hub in 2014, said the province has played a vital role in national wheat supplies. "One of four steamed buns in China comes from Henan," said Guo.
Wu Xinmai, the former deputy chief of Zhangshi township in Weishi county of Kaifeng, said Xi's visit enhanced people's confidence in rural development.
Agriculture mechanization is the basic feature of modern agriculture, said Wu, adding that "farmer cooperatives have become an efficient tool in modernizing agriculture".
Aware of their heavy responsibility in the leading granary, local authorities have also made rural areas the focus of their poverty alleviation efforts, in line with a new road map for the country's agricultural development, Guo said.
The measures include bolstering large-scale farming and enhancing infrastructure and technology in the sector, as well as deepening rural reform in basic management, collective property rights and agricultural support.
The results continue to be encouraging for local farmers. In the past five years, the province has recorded steady improvements in its grain production capacity, achieving a mechanization rate of 82.6 percent last year.
Li Wenzhou was a truck driver before being lured back to the rural area in 2014 because of achievements in the demonstration zone and the local agricultural sector. In the past five years, Li has invested heavily to improve his farming expertise and has since gained much through exchanges and discussions with local agricultural specialists and growers, he said.
"During the wheat's ripening season, when the breeze blows on the fields, the wide expanse of gold is truly beautiful," Li said.
"It is a very satisfying sight, and the whole year's efforts become worthwhile."