Jack Ma's eWTP innovation center set up in 'world's supermarket'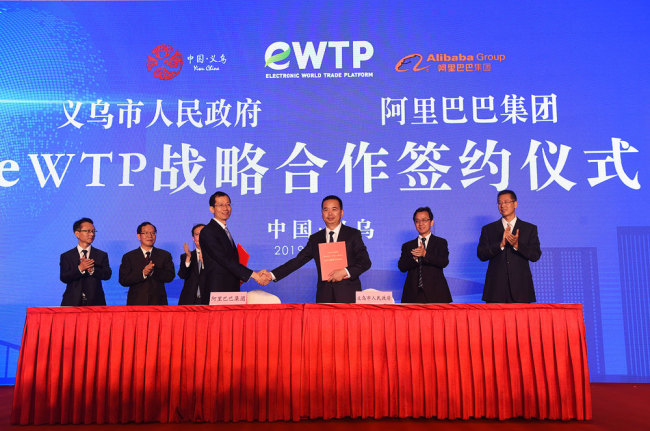 China's e-commerce giant Alibaba signs a cooperation agreement with the government of Yiwu to set up the global innovation center of the Electronic World Trade Platform (eWTP) there, June 19, 2019. (Photo: VCG)
Alibaba and the government of Yiwu, a marketplace for small commodities in Zhejiang Province, agreed to explore new rules and modes of trade serving small and medium-sized enterprises (SMEs) around the world.
The eWTP was proposed by Jack Ma, founder of Alibaba, in 2016. It aims to set up an open platform for private enterprises and coordination among international organizations, governments and social groups which focus on the development of SMEs as well as trade. It was included in the communique of the G20 Summit in Hangzhou.
Dubbed the "world's supermarket," a growing number of foreigners have been attracted to the city of Yiwu. Around 15,000 foreign traders from more than 100 countries are stationed in Yiwu, and more than 400,000 foreigners come to the city to do business every year. Meanwhile, Alibaba's platforms host millions of vendors and hundreds of millions of consumers.
"The signing of the agreement shows that the two biggest markets, online and offline, are joining hands to create new trade rules, together with SMEs and micro businesses around the world," said Lin Yi, secretary of the Yiwu city committee of the Communist Party of China.
According to the agreement, the two sides will speed up the digital transformation of industries, and advance the joint development of the eWTP and Yiwu's brick-and-mortar market. The two sides will innovate new trade modes in imports and exports, jointly build smart logistics hubs, and develop new types of trade financing.