China launches research on blood control target among diabetics patients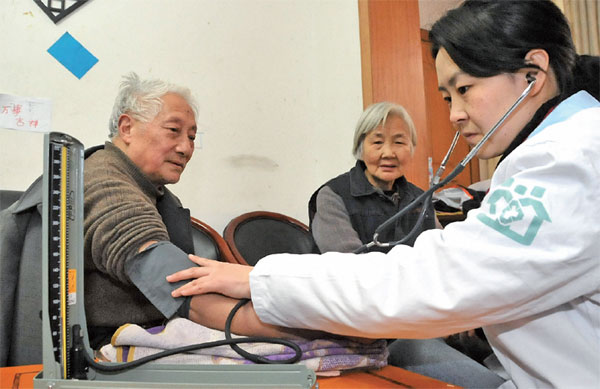 A family doctor measures the blood pressure of an 82-year-old man at his home in Chengdu, capital of Sichuan province. (File Photo: Xinhua)
China on Sunday launched a five-year medical research program on the blood pressure control target for adults with type 2 diabetes to reduce cardiovascular and death risks.
Over 200 research centers across the country will participate in the program, launched in Chongqing in southwest China.
Researchers will randomly compare clinical trials of 12,000 type 2 diabetic patients to find the optimal blood pressure control target, said Ning Guang, a Chinese Academy of Engineering academician and research initiator.
"We know that lowering blood pressure is critical for the treatment of diabetes, but it is still not clear how much to reduce it," Ning said, noting that internationally, there is no standard anti-hypertension target.
Statistics show that China has 114 million adult diabetic patients, with more than half suffering from combined hypertension. Compared with those who have no elevated blood pressure, they have higher risks of myocardial infarction, stroke, as well as eyeground, renal and neurological complications.