Chinese quantum science team awarded Newcomb Cleveland Prize
People's Daily app
1550225020000
A Chinese research team of a quantum science experimental satellite was awarded the 2018 Newcomb Cleveland Prize at the annual meeting of the American Association for the Advancement of Science (AAAS) in Washington DC on Thursday.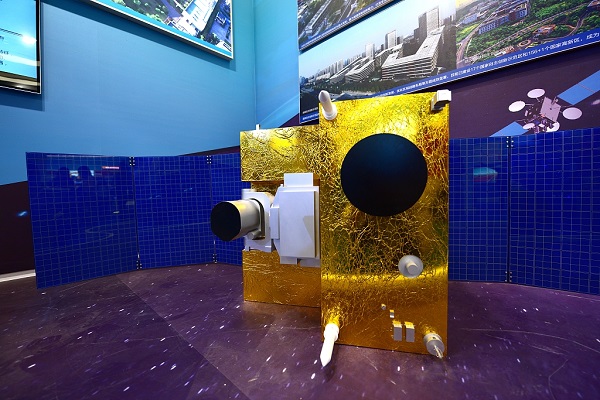 The model of the Quantum Experiments at Space Scale (QUESS) or Micius (File Photo: VCG)
Led by Pan Jianwei, a professor at the University of Science and Technology of China (USTC), the team conducts studies on quantum communications and has laid the groundwork for ultra-secure communication networks of the future.

This is the first time that the prize has been awarded to a Chinese team with its home-grown research since the prize was established more than 90 years ago.
The award-winning team has made outstanding contributions to the experimental research of large-scale quantum communications by realizing the two-way quantum entanglement and distribution at the thousand-kilometer level.
Pan and his Chinese colleagues used a satellite called Quantum Experiments at Space Scale (QUESS) or Micius to send entangled photon pairs through the near-vacuum of space, measuring the quantum keys at receiving stations over 1,200 kilometers apart, China's Xinhua News Agency reported earlier.
Dr. Yin Juan, a professor at USTC, who received the prize on behalf of the research team, told reporters that the international competition in the field of quantum communications is fierce and the reason why her team can take the lead is inseparable from the Chinese government's quick decision-making process, huge support and the capability to concentrate resources.
Founded in 1848, the AAAS is the largest among world's science and engineering associations and the sponsor and publisher of Science journal.
The Newcomb Cleveland Prize, established in 1923, is awarded annually. According to the website of the AAAS, the prize is awarded to the author or authors of an outstanding paper published in the Research Articles or Reports sections of Science from the first issue of June through the last issue the following May.
(Compiled by Zhang Jian)