SpaceX rocket launches Canadian satellites into space, returns to land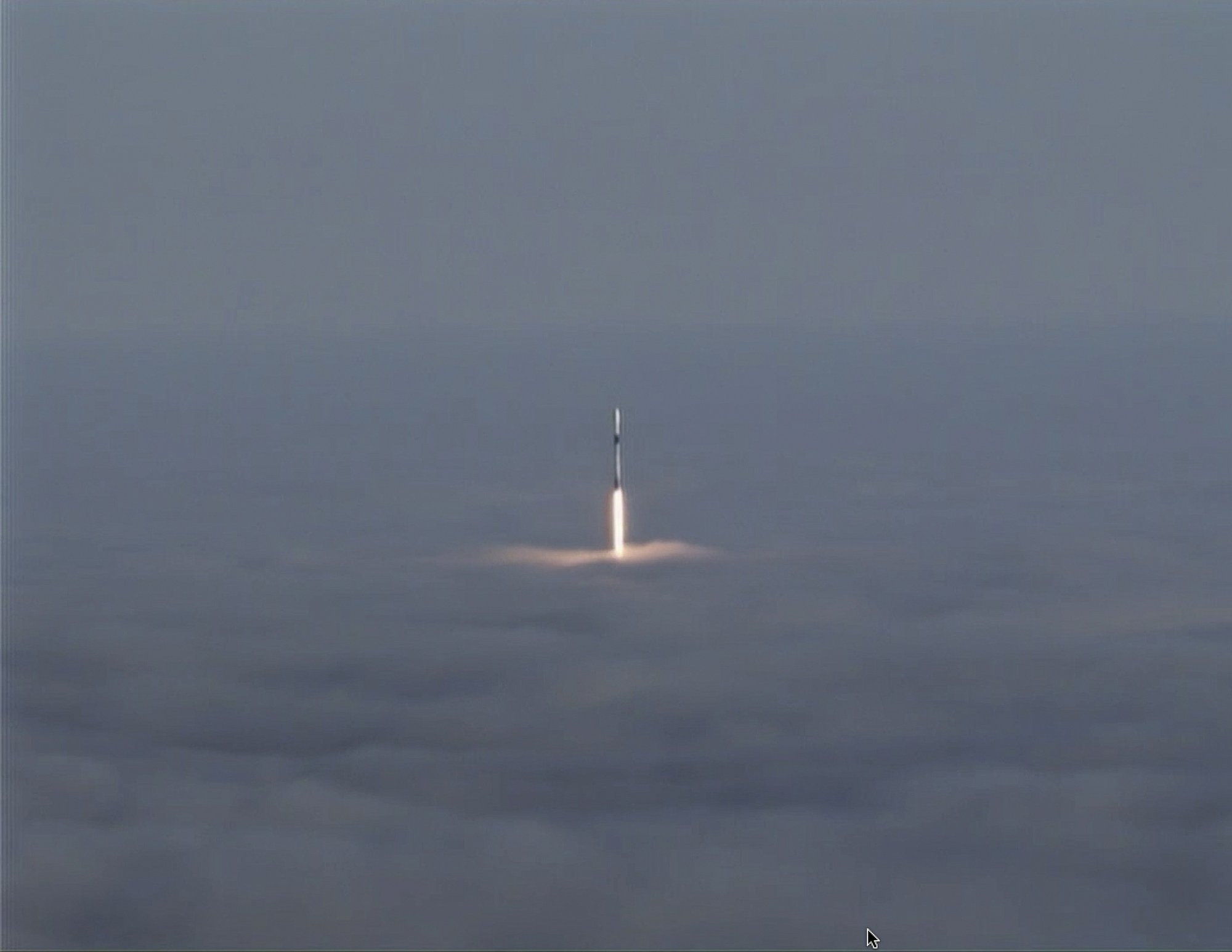 The launch of a SpaceX Falcon 9 rocket carrying the Canada's Radarsat Constellation Mission (RCM) from Space Launch Complex-4 in Vandenberg Air Force Base, Calif., Wednesday, June 12, 2019. (Photo: AP)

LOS ANGELES, June 12 (Xinhua) -- The US private space company SpaceX on Wednesday successfully launched its Falcon 9 rocket carrying a trio of satellites for the Canadian government from Vandenberg Air Force Base in the state of California.
The rocket, carrying Canada's RADARSAT Constellation that includes three Earth observation satellites, blasted off at 7:17 a.m. Pacific Time (1417 GMT) from Space Launch Complex-4E at the air force base.
SpaceX confirmed main engine cutoff and stage separation of the rocket about two minutes after its liftoff. Falcon 9's first stage successfully returned to land at SpaceX's Landing Zone 4 at the air force base, according to the SpaceX live broadcast.
About one hour later, the three radar-imaging satellites were deployed to orbit.
Prior to this mission, SpaceX has successfully landed a first stage booster on land 14 times and has recovered Falcon 9 first stages from 26 missions at sea using the company's Autonomous Spaceport Drone Ships, according to the Hawthorne, California-headquartered company.
The satellites will orbit Earth at an altitude of 600 km. They are evenly spaced on the same orbital plane, separated around the globe by 32 minutes or approximately 14,600 km, according to the Canadian Space Agency (CSA)
The three-satellite configuration will provide daily revisits of Canada's vast territory and maritime approaches, as well as daily access to any point of 90 percent of the world's surface.
The RADARSAT Constellation Mission (RCM) is Canada's newest generation of radar Earth observation satellites that will contribute to a better understanding of Canada's land and natural resources. The expected lifespan of RCM is seven years for each satellite.
The mission will capture images of Earth's water, land, ice and atmosphere during the day and night and in all types of weather, including heavy cloud cover, smoke and haze.
The mission is designed to provide effective solutions in three main areas: maritime surveillance, disaster management and ecosystem monitoring, according to the CSA.
The RCM is the successor to the CSA's Radarsat-2 satellite, marking the start of a third generation for Canada's radar imaging satellite systems.
While Radarsat-2 and the earlier Radarsat-1 were single-satellite missions, RCM uses three spacecraft to increase the frequency of coverage and enable new applications for the data the satellites gather.
Wednesday's launch is the second major mission that SpaceX has undertaken for the CSA. SpaceX previously carried the CSA's multipurpose CASSIOPE satellite in September 2013 on the sixth Falcon 9 mission.