Two rockets lift seven satellites in single day
China Aerospace Science and Industry Corp launched two Kuai­zhou 1A solid-fuel carrier rockets on Saturday, marking the first time two flights have been made in a single day by the same type of rocket. Both were carrying satellites.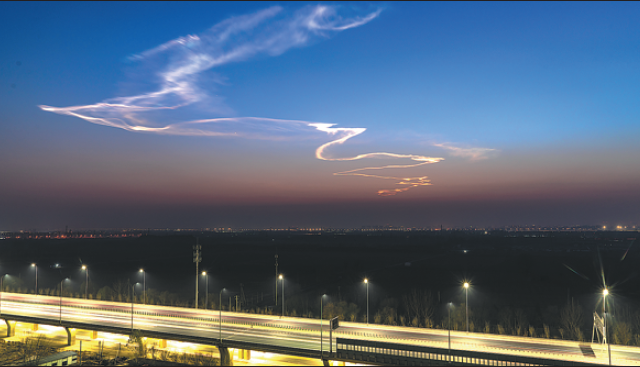 A glowing, curving cloud is left from the contrail of China's second rocket launch on Saturday from the Taiyuan Satellite Launch Center in Shanxi province late in the afternoon. (Photo: China Daily)
A Kuaizhou 1A blasted off at 10:55 am at the Taiyuan Satellite Launch Center in Shanxi province, to place a Jilin 1 Gaofen 02B optical remote-sensing satellite into orbit, the State-owned defense and space conglomerate said.
About six hours later, another Kuaizhou 1A was fired at 4:52 pm, sending up six small satellites developed by three domestic private enterprises.
The two missions marked the Kuaizhou 1A's sixth and seventh flights since January 2017, when the rocket made its debut, the company said.
It was also the first time for any Chinese launch center to carry out two launches within one day, a testament to China's strong launch capabilities, experts said.
The second mission created a curved, glowing vapor trail in the sky at twilight that was observed by many people in North China, who marveled at its beauty.
Kuaizhou is the largest solid-propellant rocket family in China. The Long March series mainly relies on liquid fuel. Nine Kuaizhou series rockets have been used since the first mission in September 2013.
The 20-meter-long Kuaizhou 1A has a liftoff weight of about 30 metric tons. It is capable of sending 200 kilograms of payload into a sun-synchronous orbit, or 300 kg of payload into a low-Earth orbit, the company said.
At least one more Kuaizhou 1A mission will take place before year's end, it said without elaborating.
Yang Yuguang, a senior space industry observer in Beijing and a member of the International Astronautical Federation's space transportation committee, said solid-fuel models such as the Kuaizhou series feature shorter preparation time, better mobility and a higher level of mission flexibility than large, liquid-propellant rockets. That's why a launch center can handle multiple flights in a short time span with such rockets, provided its ground facilities are sufficient.
Yu Zhijian, head of the Taiyuan Satellite Launch Center, told Xinhua News Agency on Saturday that fulfilling two missions in a single day indicated that the center has made a breakthrough in its rapid launch capabilities.
A new manufacturing complex for Kuaizhou rockets will soon be built, according to Zhang Di, a senior rocket scientist and chairman of Expace Technology in Hubei province, a CASIC subsidiary that builds the Kuaizhou series.
After the complex starts operations, Expace Technology will be able to assemble at least 10 Kuai­zhou 1As and 10 Kuaizhou 11s annually, he said.
Kuaizhou 11, a larger and more powerful model, is under development at Expace and is expected to make its maiden flight soon.