Iran to cut uranium enrichment capacity if nuclear deal reached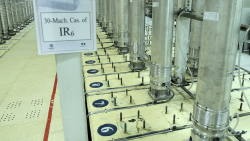 Iran will cut its uranium enrichment capacity and the number of centrifuges if an agreement is reached in Vienna talks, the country's nuclear chief said on Wednesday.
In the 2015 Iran nuclear deal, formally known as the Joint Comprehensive Plan of Action (JCPOA), Iran has a limit on the number of centrifuges, which will be implemented if an agreement is reached in Vienna, Mohammad Eslami, president of the Atomic Energy Organization of Iran (AEOI), said in an interview with Al-Alam, Iran's Arabic language TV network.
"No new decision will be made if the agreement is finalized, we will continue as it was in the past," he added.
Iran signed the JCPOA with the world powers in July 2015. However, former U.S. President Donald Trump pulled Washington out of the agreement in May 2018 and reimposed unilateral sanctions on Iran, prompting the latter to drop some of its nuclear commitments under the agreement by increasing the number of its centrifuges and purity of enrichment.
Since April 2021, eight rounds of talks have been held in Vienna between Iran and the remaining JCPOA parties, namely China, Russia, Britain, France and Germany, to revive the deal.
Over the past weeks, reports from Vienna suggested that the negotiators were "close" to a new agreement but a few key issues remain unsolved pending "political decisions" of the parties.