5G clinic serves troops at sea
Global Times
1557864359000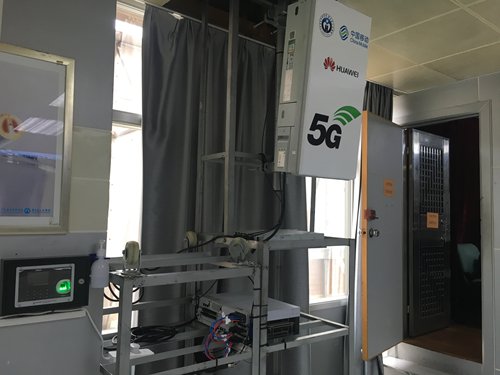 A 5G hospital in Guangzhou, South China's Guangdong Province, in April. (Photo: VCG)
No need to go to big hospitals far away, as a recently established 5G remote ultrasonic clinic improves medical support for army personnel and residents on the islands in the South China Sea while reducing costs.

Since the remote clinic started operations in April, 62 military personnel and civilians have benefited from the 5G remote ultrasound outpatient service. Among them are 58 servicemen and women stationed on Xisha Islands, who underwent abdominal and gynecological check-ups and emergency services without leaving the island, PLA Daily reported on Tuesday.

The clinic allows troops and residents living on the islands in the South China Sea suffering from health problems get timely medical treatment via 5G technology, it reported.

Lü Faqin, the doctor of the ultrasonic clinic, was quoted by the PLA Daily as saying that when troops suffer from injuries or emergency symptoms, they could receive diagnosis and treatment within 24 hours with the 5G technology.

Doctors from the Hainan Hospital of the People's Liberation Army General Hospital, based in Sanya could remotely monitor their conditions.

Doctors can remotely operate the mechanical arm in real time at the patient end.

Through 5G technology, images can be transmitted in real time and precise positioning can be achieved for remote ultrasonic examination and treatment. Doctors and patients can also communicate through voice and video.

The clinic would solve the problem of the lack of ultrasound doctors in the South China Sea, Chen Xiangmiao, a research fellow at the Hainan-based National Institute for the South China Sea, told the Global Times.

When there is no such clinic, patients in urgent need of medical attention were always being airlifted to other hospitals and even other provinces such as Guangdong, according to Chen.

Chen noted it costs five to 10 hours, depending on weather conditions, to dispatch a military aircraft and transfer the patient in the South China Sea to nearest hospitals, usually those in Sanya and Haikou.

There are two major hospitals in the South China Sea - one in the Yongshu Reef of the Nansha Islands and the other on Yongxing Island of the Xisha Islands, media reported.

A patient from Xisha Islands was diagnosed with acute calculi obstruction by using 5G remote ultrasound technology. It only took two minutes to diagnose the patient's symptoms.

The next morning, the remote ultrasonic robot found that the patient's stone had been discharged.

The Hainan Hospital in Sanya will also program robots to launch remote ultrasonic checks to monitor the daily training of the soldiers, and develop more remote clinics for the solders and other residents in the South China Sea, said the PLA Daily report.