Japan's Hayabusa2 space probe successfully lands on asteroid: JAXA data
TOKYO, Feb. 22 (Xinhua) - Japan's Hayabusa2 space probe successfully landed on the asteroid Ryugu, data from the Japan Aerospace Exploration Agency (JAXA) confirmed Friday.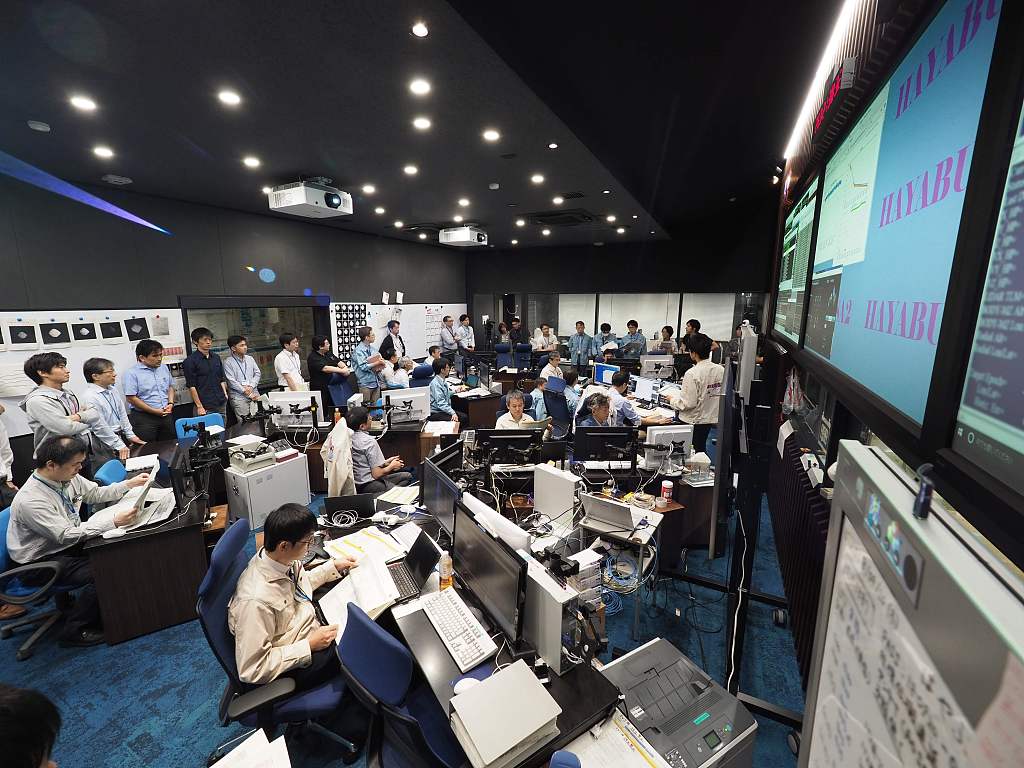 In this handout photograph taken and released by Institute of Space and Astronautical Science (ISAS) of Japan Aerosapace Exploration Agency (JAXA) on September 21, 2018, researchers and employees work at a control room to operate the Hayabusa2 mission in Sagamihara. (File photo: VCG)
Hayabusa2 began its descent a day earlier to the asteroid, which the probe arrived above in June last year, from an altitude of 20,000 meters.
The decent was delayed by a few hours while the final approach to the asteroid's surface was confirmed, JAXA said.
The probe is now scheduled to begin collecting rock samples from Ryugu's surface, according to JAXA's mission plans.
The initial touchdown on the asteroid was postponed in October last year, as JAXA found the surface of the asteroid, which is about 300 million km from the Earth and 900 meters in diameter, to be rockier than it first thought and needed more time to ensure the safe landing of the probe.
On Oct. 3, Hayabusa2 released a small-sized Mobile Asteroid Surface Scout, also known as MASCOT, which touched down successfully on the asteroid.
Prior to that, two small robotic rovers also launched from Hayabusa2 successfully landed on Ryugu on Sept. 22.
The rovers have been taking images of the asteroid and performing other functions such as measuring its surface temperature.
JAXA said the images of Ryugu captured by the robots have revealed a cluster of bumpy rocks and a lack of flat surfaces for the main probe to land on.
The agency has since located a flat area near Ryugu's equator that is free of rocks larger than 60 centimeters, it said.
The scientists, according to JAXA's data, apparently successfully landed the probe on a far smaller landing area than originally planned.
The landing zone near the equator was 6 meters in diameter, JAXA said.
The 600-kg Hayabusa2, which was launched from the Tanegashima Space Center in southwestern Japan in December 2014, has experienced no problems up until now, throughout its journey totaling 3.2 billion km.
The agency said that in total, Hayabusa2 is scheduled to make three landings on the asteroid and collect rock samples and will stay close to Ryugu for one and a half years.
During this time, it will conduct a number of exploratory activities in an attempt to try to find clues about the solar system's evolution and possibly the beginning of life itself.
Hayabusa2's mission will be completed when it returns to the Earth in 2020 with the samples of rocks it has collected from Ryugu, which is thought to contain water and other materials that could possibly support life.